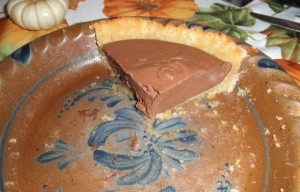 Ah…PIE! This is so delish, so simple, so mahvelous, you must try it–stat. 10 min to prep and very little work. Sometimes we have the mousse in a pie crust, sometimes we have it straight up. Either way, this is a winner on all counts and very allergy friendly, unless you can't have chocolate, bananas or coconut. If you're sugar free, just use sugar-free chocolate.
Since it's whipped in the Vitamix, you get those heavenly air-bubbles like you'd normally have in mousse, and such a light texture. And did I mention virtually no work?
I will warn you, though. Our first ceramic pie dish shattered out of the shee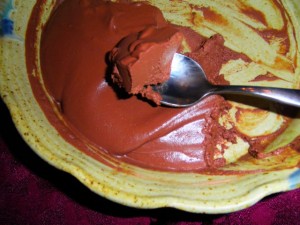 r awesomeness of this mousse. Or maybe that was because I dropped it. It's hard to know for sure,  but hold on tight just in case.
The only downside is that you do really need a high powered blender. There's no way it will get smooth enough otherwise.
Chocolate Banana Mousse Pie
1 can coconut milk (either regular and lite work)
¼ cup coconut flour
4.5 oz dark chocolate. I use Alter Eco 85%, any GF dark chocolate will do.
2.5 over-ripe bananas, frozen
5 dropperfuls stevia
Prepare a crust, or just have a mousse. I use an almond crust, below.
Put coconut milk, coconut flour and bananas in a Vitamix. Let it run for a full 6-7 minutes. Scrape down the sides. Add in melted chocolate and stevia. Let run 3 minutes more. Pour out into prepared crust, refrigerate for at least 4 hours or more.
Man! Wasn't that easy?
Pie crust:
1 3/4 cups almond flour
pinch of salt
2 TBSP arrowroot
1/4 cup of oil
3 TBSP agave nectar or honey
1 tsp vanilla
Mix, press down into a 9 inch pie plate.
Bake 15 minutes at 325 or until browning. Remove, let cool before filling.
This super easy dessert can be one of your many sanity savers for December. I'm also submitting it to Diet, Dessert and Dog's Wellness Weekends . Head on over for other yummy options!