I am really excited about our December Sanity Retreat. I see it as a chance to pause…and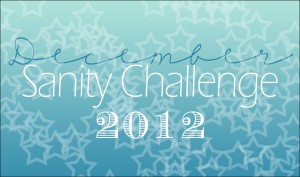 make sure my time and energy are going toward the parts of my life that are most important to me. I find that when I make more of an effort to make conscious choices, my decisions better reflect ME.
And, as an added bonus, I just got an added nudge to refocus my attention and come up with a "grand master plan" for 2013, and so I'll be blogging more about that very soon.
As for me, here are my sanity goals:
Waiting at least 8 hours to see if I *need* to purchase something.
Doing at least one compassion-focused meditation daily, at least 6 days a week
Giving myself permission to have my own experience, and let people be who they are (I know this is non-specific, I'll be posting more about this)
Journaling on what I'm proud of for 2012 at least weekly
Spending at least 2 hours weekly figuring out where I want to be and coming up with my "grand master plan" for 2013, and contacting various people to find a good fit.
So a recap on the challenge:
It can be on whatever YOU need to work on to stay sane during the holiday season, or whatever you want to make sure to remember so that you are living life to the fullest:
Balancing commitments to others with commitments to yourself
Getting in physical activity
Creating a happy balance around food
Getting enough sleep!
Making wise financial choices
Focusing more on living beings than material "stuff"
Whatever else speaks to you along these lines
The challenge—write up a blog post on what you plan to do to make your holidays sane, happy and healthy.  Make it specific!  Not just "I'll get more sleep", but "I'll get at least 7 hours of sleep, 5 days a week".  Not just "I won't go crazy making desserts", but "I'll make a maximum of XX desserts, and space them out over XX time".  You know what you need to do to keep this doable, and writing it down will help you get there!
As a little added incentive, for each post on your intentions and your progress you link back here or one of the other co-hosts, you'll be entered to receive a $50 gift certificate to Nuts.com  (they are not sponsoring, I just wanted something with healthy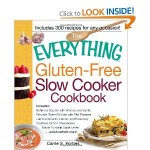 gluten-free, vegan, sugar-free, etc. options). The delicious Ms. Carrie Forbes of Carrie of Ginger Lemon Girl has also generously donated 2 signed cookbooksGrab the badge, if you like, which was graciously created by Jennifer Yandle Photography & Design. for "The Everything Gluten-Free Slow Cooker Cookbook". I mean, what could be more sanity promoting than using a slow cooker?
I'll also be joined by a wonderful group of co-hosts:
Grab the badge, if you like, which was graciously created by Jennifer Yandle Photography & Design.
Last, but not least, we do have a FB group–if you'd like to join, you're more than welcome. It's a space to support and be supported, and it's the same one we used during the last Self-Care Retreat.
To get a "flavor" of past retreats:
http://www.gfgoodness.com/2012/08/05/a-july-self-retreat-recap/
July Self-Care Retreat and the December Sanity Retreat.