It was a fantastic month and I loved seeing all of the great posts, and extra support for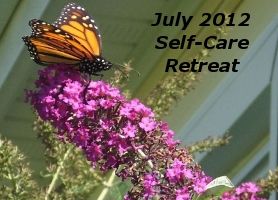 taking and making time for self-care. We've also had a fantastic, active and fun Facebook group. Thank you all–everyone who participated by blogging, commenting, or even reading!
And *drumroll please* the winner of the gift certificate for Nuts.com is Valerie of City|Life|Eats Yahoo for Valerie!
Welcome & kick off posts from:
Cheryl of Gluten-Free Goodness (you're already here!)
Food as Self-Care
Self-Care Through Connection
Self-Care Through Movement
Self-Care through Creativity
Inward Reflection:
A Struggle for Self-Care by Pamela of aseafish out of water