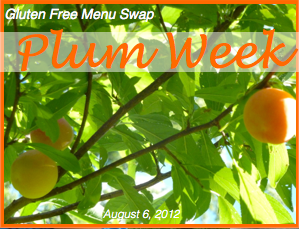 I've missed menu planning, and I'm glad to be hosting this week.  Much of my posting efforts lately were directed towards our July Self-Care Retreat (recap here!). I must admit, much of my free time has gone into watching the Olympics, and our fridge is empty. Or at least mostly empty.
But we did grab some plums from the Farmers' Market this weekend, and I just finished a batch of plum butter. Think apple butter, just with plums.  Mmmm…. I hope to post the recipe soon.
And may I suggest checking out this recipe for Heirloom Tomato and Avocado Salsa (AKA Salsa-mole)? It's perfect for the season.
As always, Heather of Celiac Family is the coordinator for the swap, and information on hosting and future weeks is here.
Menu:
Monday:
Kale and Turkey Stew with fresh herbs
Tues:
Chicken (most likely with plum butter) with roasted cauliflower and garlic
Weds:
White beans, fresh pesto and broccoli
Thurs:
Baked salmon. We are way overdue and I'm craving some!
Friday:
Leftovers
And everyone else?
Angela of Angela's Kitchen joins us with her new gig with Better Batter. I love the idea of  Chocolate Zucchini Bread, and she's got a picture of one of her chickens.  For real.
Heather of Celiac Family wants to check out Plum Cobbler from Book of Yum.  Can't go wrong there! The Tropical Black bean salad sounds like a winner, too.
Paige of Not Missing a Thing has the essence of good-mommyhood down for hot weather: plan for meals, ice cream for occasional meal/treats. Yum! Pasta salad looks perfect for a hot day.