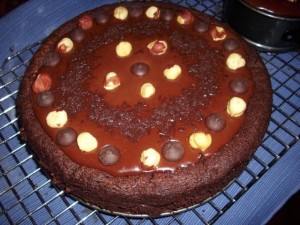 13 years ago today, I went swimming in a gorge in Ithaca with a friend of mine. We kissed. Okay, we spent half the night kissing.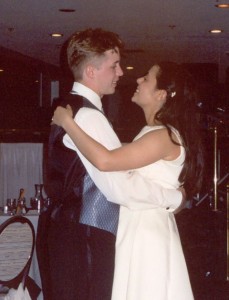 And here I am, making a cake to celebrate, along with a belated birthday cake for my husband of more than 7 years and my best friend.
At a first glance, this may look like Nigella Lawson's Nutella cake. Look closer–it's actually substantially different, and we like this a lot better. It's much lighter and more chocolate-y: win/win! So it's been many years since I've had it, but I still remember how delicious it is. Enjoy!
E's cake
2 egg yolks
8 egg whites, whipped to stiff peaks
14 oz jar of Nutella
Soften stick of butter
½ cup hazelnut meal, ideally freshly ground in the food processor
5.2 oz 70%+ dark chocolate, melted
1 Tablespoon Frangelico or other gluten-free alcohol
1 tsp vanilla
Pinch salt
Preheat oven to 350-degrees.
Grease and line an 8inch and a mini springform with parchment or wax paper (a 9 inch works, too, but the cake will will fall more).
Separate 8 eggs, reserve 2 yolks and do something yummy with the rest. (pudding? Creme brulee? curd?)
In a stand mixer, whisk the eggs whites and salt until they form stiff peaks.
In a separate bowl, beat the butter and Nutella together, then add Frangelico, 2 egg yolks, and ground hazelnuts.
Fold in the melted chocolate, then mix in 1/3 of egg white.Gently folding the rest of them in a third at a time. They won't incorporate perfectly, no worries.
Pour into the prepared pan and cook for 50 + minutes or until the cake's beginning to come away at the sides. Cool on rack.
Yes, it will fall. The other way to look at it is that the cake is creating a great space to hold the frosting/ganache. There, doesn't that sound better?
Glaze with a simple ganache or a chocolate frosting, chocolate decorations, hazelnuts…go crazy.
I assume a dairy free chocolate hazelnut spread & Earth Balance will work for a dairy free version, but since there are so many reasons I can't eat this any longer so I've never bothered.
Gluten-free or not, this is one seriously elegantly delicious cake.