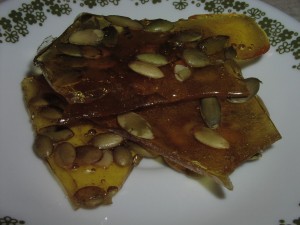 Every year, we host a pumpkin carving party. And every year I hunt down recipes and plan and scheme. The last few years have been more challenging, and I do my best to make sure that everyone has something, except gluten, of course. So everything is GF, but some are dairy, soy, egg, corn, grain, sugar free and vegan. And of course, there are a few things that avoid all of those so I can eat, too! But this year someone has a nut allergy and someone who avoids chocolate. Ah, a wrinkle in the matrix. I use a LOT of nuts to compensate for…let's see, everything else. So it was time to get creative, and revamp a recipe from way back that is now top 8 free. I'd never heard otf pumpkin seed brittle, but it sounded like fun, and a lot of people enjoyed it.
I spent so many years mastering different recipes that are now hugely different than the way I eat. However, I still do make them from time to time and feel like I should pass on the accumulated knowledge! So this is the first of two "Flash from the Past" posts, and then we'll be back to our normally healthy-ish endeavors.
Making nut (or seed) brittle is fun once you figure out the secret. I have absolutely no patience for sitting there wetting a pastry brush and stirring. But you can just put it in the microwave and poof! All done. But if it goes too long, you have burnt goop, so it's important to be vigilant for the last minute or so, and once the mix is done, you have a very small window of opportunity. That's also why I don't have a picture of the perfect color you're looking for. I didn't have enough hands!
Pumpkin seeds AKA pepitas are a great, seasonal treat! Despite the fact that this is a complete sugar bomb, pumpkin seeds themselves are quite healthy. They're good sources of magnesium, manganese and phosphorus, and portable sources of fiber rich protein.
This recipe does not work when doubled. Trust me on that one!
1 cup organic cane sugar
1/4 cup water
1/3-1/2 cup roasted and salted hulled pumpkin seeds
splash of vanilla extract, optional
Line a cookie sheet with wax paper and then grease well with oil.
Place sugar and water in a medium sized glass microwave safe bowl. Put on high for 5 1/2 minutes. It often ranges between 5 and 6. Start peeking at 5 minutes. You should be able to tell without stopping it. The key is looking for a medium amber color. Too light and you have sugar crystals in your brittle, too dark and it's burnt.
Remove from microwave with gloves, toss in seeds and extract, stir and quickly pour out on to the prepared cookie sheet. Let it sit until dry, break into pieces and peel off paper.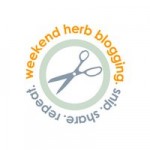 This ode to pumpkin seeds is my weekly submission to Weekend Herb blogging, the "baby" of Kalyn's Kitchen. Our host this week is Laurie of Mediterranean Cooking in Alaska. She's got a great picture of her garden up, so check it out!