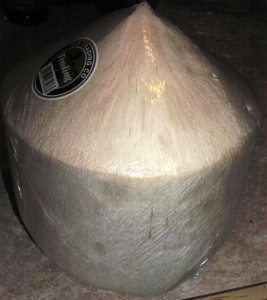 The swap is hosted by the lovely Manda of Asparagus Thin, and our ingredient is one of my favorites: coconut! I go through a ridiculous number of young Thai coconuts, and coconut water is one of the yummiest things I can think of. We're really lucky that we have a Mexican market nearby that regularly carries the coconuts, and they're not that expensive. I have so many that we actually have a coconut screwdriver and knife to get the darn things open. As an extra bonus, it's very soothing when I have an upset stomach! Whew! We we had a very busy weekend, with a big pumpkin carving party and gobs and gobs of gluten free insanity. We had chocolate chip cookies, an apple crisp, pumpkin seed brittle, a heavenly chocolate raspberry pie, rugelach, chocolate hazelnut balls, angel food cake, pumpkin seed dip, pumpkin cornbread, hot mulled apple cider and chili. One word? Overkill! But everyone had a good time, and I'll post on that later this week.
This week is going to be about taking it easy in a big way, I wonder why. And this weekend we're heading to the mountains for a nice romantic weekend, so I'll get a break from the kitchen. *note: I need a host for next week's swap, because I'll be away! Email me if you're interested cheryl (at) eharrishome (dot) com
Monday:
Grilled salmon and herby-peppers (a combo of the last from my garden and the Farmer's Market)
Tues:
Pizza experimentation
Weds:
Vegan
Avocado and tomato soup with a nice big glass of coconut water
Thursday:
Roasted Chicken with celery in a chestnut sauce
Friday: Leftovers!
Baked good: Coconut Macaroons, courtesy of a recipe from Ricki's upcoming cookbook
From my garden:
peppers
a few tomatoes which are reddening on my counter
raspberries
From the market:
apples
pears
garlic
kale
broccoli