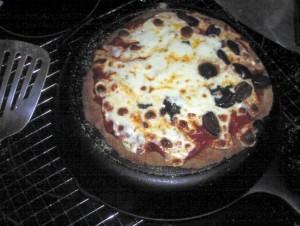 Our fabulous host for this months' Daring Baker challenge is Rosa of Rosa's Yummy Yums. Our recipe this month is pizza! I was quite excited. I hadn't had pizza in a LONG time, maybe 4 years or so, so I figured I was due. I was also determined to do a way that would work for me, and also a way that was semi-faithful to the recipe we were given. I've been SO busy lately, since we hosted a big pumpkin carving party last weekend, that this almost didn't happen. My head GF taster was busy, and it seemed silly to cook a GF pizza for my glutenous DH. But I discovered that another friend has gone GF and was craving pizza, so the dishes are still in the sink as I type away, and this is just under the wire.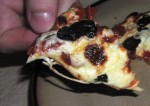 The great news is that the pizza challenge (as written) was quite successful! DH and Natalie pretty much inhaled the first one, and the second one vanished as well. Both gave glowing reviews, and DH is picky, so I know I can trust him. I even changed the flours to make it amylose free so I can share it with people that I work with, so I was very glad. It was very simple to make. Since I no longer have a baking stone, I opted to use the back of a cast iron skillet. It's not the most graceful way to get the job done, but especially if you give it time to heat up, it does help the crust get nice and crispy. You could even pick up a piece and eat it like pizza!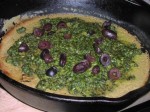 My Cheryl-friendly pizza wasn't so successful. I made a few attempts at a grain free, vegan and yeast free pizza for me. One was a socca pizza (YUM!) but it got overly soggy. I did, however, eagerly devour every crumb. The other was a vegan/grain free/yeast free foccacia-ish bread I was working on. It looked beautiful, and tasted awful. I finally realized I'd forgotten the lemon juice and the baking soda taste was quite prominent. Whoops! I will surely experiment with both in the future, though.
I did a half batch and used it for 2 pizzas instead of 3 as we were advised. The flour combo I used was 1/2 cup almond, 1/2 cup corn flour, 1/4 cup chestnut, 1/4 cup amaranth flour, 1/4 cup quinoa flour, and 1/2 cup corn starch.
I added herbs and minced onion to the crust, but aside from that, I followed the instructions as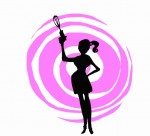 given.
What a nice treat to do something different! To see more, lovely pizza creations, check out my fellow Daring Bakers.