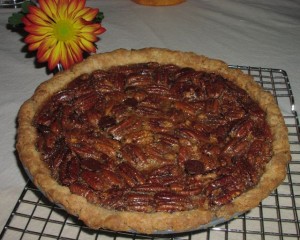 Growing up, pecan pie was my favorite food.  When I eventually found my way into the kitchen, it was no surprise that perfecting pecan pie was my first project.  To me, they're so perfect that it's impossible to describe the decadent, golden, melting, perfection.  *drool* When I was a grad student in California and my boyfriend (now husband) was in New York, I mailed him (what else?) a pecan pie for our first anniversary.  BTW, they do ship well!
Life changes as it always does, and most of the ingredients are now off-limits for me.   I adapt most things, but some things are too perfect to mess with.  I love to bake, and to feed the people I care about.  And when the pie comes out of the oven, I take a whiff,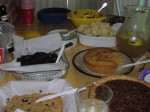 and it takes me way back to all of the pecan pies I've shared with family and friends over the years. It's an instant time capsule.
I must admit, I make fewer pecan pies than I used to.  When I heard about the Better Batter pie contest, I figured it was time to send this recipe out into the world for wider enjoyment.  Even better, the recipe is super simple! You can use your favorite GF crust, and I've included my GF crust recipe of choice below. I do it in the food processor to keep it simple. It literally takes less than 10 minutes, and your friends will be so impressed!
THE Pecan pie: a step by step guide to utter lusciousness
3 eggs
2 Tablespoons butter, melted
1 1/4 cup corn syrup
1/2 cup cane sugar
1/2 cup brown sugar
2 teaspoons bourbon vanilla (regular works, too)
1 1/4 cups pecan halves
1/2 cup bittersweet or semisweet chips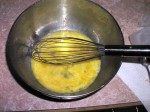 Preheat the oven to 350
1. Lightly beat the eggs.
2. Melt butter in a glass (microwave safe) measuring cup. This can be done by microwaving for 30 seconds or on the stovetop. Swirl butter around cup and add to the beaten eggs.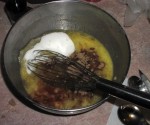 3. Add 1 1/4 cups corn syrup to the measuring cup. The leftover butter will help it slide right out!
4. Add in sugars and extract, mix well to combine.
5. Stir in pecans and chocolate chips.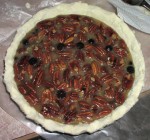 6. Pour into prepared fresh or frozen pie crust.
7. Use pie shields or make the out of aluminum foil. Essentially, you just want to crimp the foil around the exposed crust.
8. Bake for 30 minutes, then cover pie loosely with foil. Bake for a total of 60 minutes or until the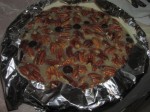 top springs back slightly when gently nudged. If your crust doesn't brown enough, remove the covers.
9. Serve and accept complements!  It will serve about 10, however, when my husband is around that number is greatly reduced.
Crust:
1 1/4  cups Better Batter flour
1 Tablespoon sweet rice flour
1/4 teaspoon salt 1/2 cup (one stick) unsalted cold butter
4-5 tablespoons of cold water, milk or orange juice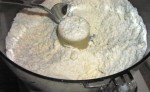 Put flours and salt into the food processor. Cut the butter into cubes and add in. Pulse in short bursts until the mix has a sandy consistency with a few chunks the size of lentils.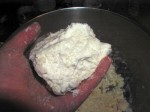 Move the mixture to a bowl and stir in the liquid a tablespoon at a time, just until the dough forms a cohesive ball. Put the ball between two pieces of wax or parchment paper and roll out as flat as you can.


Peel off the top layer of paper and flip the dough over onto a pie plate. Press down into place and arrange the crust so it looks pretty. The dough is easy to work with and you can patch it easily if it rips.
Best of all, this dough keeps well in the refrigerator or freezer.
This is my submission to the Better Batter Pie Contest.  I heard about Better Batter a few years ago on the Sillly Yaks list from Naomi.  I was intrigued by all of the rave reviews!  I do like playing with whole grain flours for much of my baking, but this works really well for my old pre-GF recipes that I don't have the time or patience to reinvent.   It does work amazingly well as an easy 1:1 flour substitute.