Many thanks to Heather of Celiac Family for getting us rolling on the Thanksgiving theme! First, I'm thankful that we've got power and heat and all those things we take for granted. Many people on LI still don't have heat or power, and it inspired me to put together an G-free emergency food preparedness list.  Please consider donating if you are so inclined! The NY region still needs help.
If this is your first g-free thanksgiving or even your 10th, I've recently put together g-free tips and gobs of recipes for each course here. Hopefully after this roundup, I'll have more recipes to add in!
I have to admit, we tend to do really mellow Thankgivings, and this year won't be an exception. Basically, instead of putting together a big feast, I've promised to make each course over a month or so. So Mr. Dude gets his  Pecan Pie (one of former very favorites), I get my sweet potato pie, we get our My Cranberry Fresh Fruit Relish, apple sauce from Carrie's new cookbook, etc. And turkey. There will be turkey! But I'm just not doing it all at once…2 pies for 2 people is overkill.
My favorite veggie dishes are more of "non-recipe" recipes: sautéed celery in chestnut sauce, and green beans with almonds. I did promise myself I'd make them and post, and then I got some sort of bug, so everything is sitting in the fridge. E is headed out of town and I get to be an UNcook when he does, so I don't see it happening soon.
I am looking forward to seeing what lovely veggie dishes y'all come up with! (somehow I just typed desserts. Goes to show where my brain is at!)
Monday: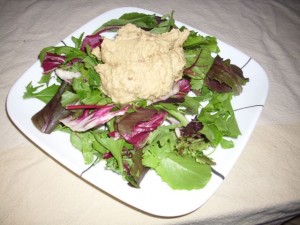 Roasted cauliflower with a coconut curry sauce
Tues:
Kalamata hummus and baby greens
Weds
Some kind of simple soup. Hopefully with kale.
Thurs:
Chicken with roasted broccoli & carrots
Fri:
leftovers, as usual
Weekly treat: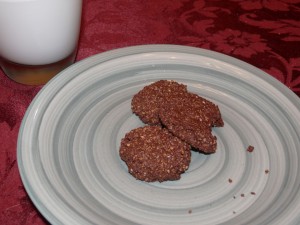 I'm making my Intense Cocoa Almond Bites–I"ve been craving chocolate and they are super quick. They're
part of a contest by Almond Board, and I love the idea of winning a tablet!
And everyone else?
Heather of Celiac Family joins us with a pictoral meal plan as usual. Her Sweet Potato Casserole looks like the kind of thing Mr. Dude would adore, so we may have to try it! Her quinoa with broccoli and mushrooms looks like a winner, too.
Paige of Not Missing a Thing shares an allergy friendly pumpkin pie. She's got a "cozy" wintertime menu, including Honey Mustard Chicken.
Samantha of Awkward Girl Gets Fit hasn't started Thanksgiving plans yet, but she has a week all planned, using the Practical Paleo protocol. She has fun things planned, like lemon artichoke chicken.