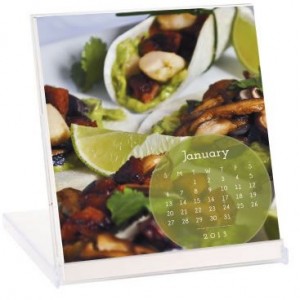 Diane of the Whole Gang let me know about her new venture—a Cookbook Desk Calendar. And you can win one below!
The first thing I noticed is that Diane is a truly amazing photographer! The photos are really quite stunning, and the colors, shapes, etc. really jump out. The photos here are Diane's.
I was also surprised it's such a compact calendar, just about the size of a CD case. So it can brighten up even the smallest or most cluttered desk at work or play.
From Diane:
Features of the 2013 Cookbook Desk Calendar: 
12 beautifully designed months in a clear CD case specially made to stand-up and display on your desk or countertop.  Size – 4 5/8" x 5 3/8"
Gorgeous color photos of each dish with easy-to follow recipes on the back.
All recipes are gluten-free and dairy-free!
Vegetarian, Vegan and Paleo directions for each recipe to fit any diet!
BONUS!  Secret access code for a hidden page full of insider tips, tools, resources & 28 additional recipes on The WHOLE Gang website.
To order:  http://www.thewholegang.org/2013-cookbook-desk-calendar/  Cost is $14.95 each plus shipping.  Discounts for orders of 10 or more.
Diane was gracious enough to let me give away a copy of the calendar to a lucky reader below. So if you just *know* that was meant to be you, please leave a comment below. And if you're not sure, one way to find out!
Open to people in the US & Canada. Contest runs until November 18th (Sunday) at 8pm EST. Please make sure you include contact info.
Good luck!
Kari S said: This is definitely meant for me

She was right! Kari, I look forward to hearing from you with your contact info ASAP.