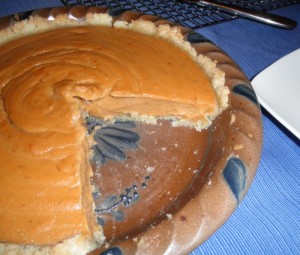 Just in time for Thanksgiving! I am so tickled. I have been experimenting with this one for quite some time and I'm delighted that I finally got it right. The "rejects" were delicious, of course, but just didn't hold together well enough. So extra thanks that this came together in time, because there's nothing quite like a pie. Gluten-free, dairy free, egg free, soy-free, nut free, no grains–and really simple to make.
Eggs make most custard-y pies work. Without eggs…it's just not the same. Flaxseed usually doesn't cut it. And I do have a sweet potato pie with gelatin, but I just cannot get over the idea of gelatin. Sue me.
The one downside is that you really do need a high powered blender (ie Vitamix or Blendtec).  I would really assume that it would be too grainy in a regular blender. If anyone tries it, please do let me know how it works.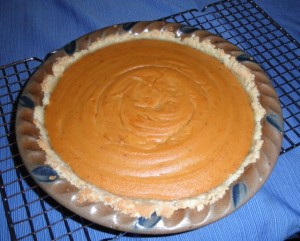 Pie crust:
1 3/4 cups almond flour
pinch of salt
2 TBSP arrowroot
1/4 cup of oil
3 TBSP agave nectar or honey
1 tsp vanilla
Mix crust ingredients, pat into the pan, refrigerate for a few hours or overnight.
Preheat oven to 325. Put the top ingredients in the Vitamix and let it do its magic. It will get hot, and takes about five minutes. Pour into a separate bowl and stir in sweet potato, pour into pan and voila! The separate mixing is because otherwise you get whipped pie, which is yummy, but the texture is just wrong for a normal sweet potato pie.
Bake for 20-25 min. It will still be jiggly and will firm as it cools. Allow to cool & enjoy thoroughly.
I'm submitting this to a blogging carnival, hosted by: