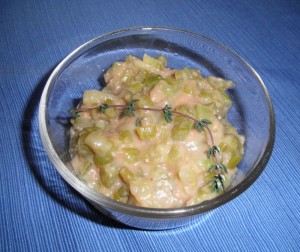 We're on a Thanksgiving kick here! If you missed it, I just posted a super duper Sweet Potato Pie which is delicious and very allergen friendly.
I adore celery in chestnut sauce, and I've been making it for many years. I learned pretty early that most of the "stuffing" part of stuffing-bread, rice, quinoa, buckwheat—was not my friend. But I love celery and this way I get the good stuff.
Please note this is really a non-recipe recipe—the cooking time and broth is so dependent on the firmness you like and the stove top temp. But hopefully this is enough to get you started.
I will be making this for T-day for sure, but I do make this on a regular basis. Love it!
1 Tablespoon oil or rendered fat
1 large celery head, stalks chopped into ¼ inch pieces (no leaves)
2.5 cups good quality homemade broth, or more if needed
2-3 sprigs thyme
1/3 cup chestnut flour
1 tsp smoked sea salt (regular works, too)
Heat oil in large pan, toss in a handful of celery until it starts browning, 3-4 min. Stir, add in the rest of the chopped celery, the broth and the thyme. Simmer for 20 min more for crisp tender, up to 35 min for softer celery. Add chestnut flour and stir every minute for 4-5 min until the flour is fully incorporated. Add in salt as desired.
That's it!
I'm submitting this to Diet Dessert and Dog's Wellness Weekend, Thanksgiving edition! Hop on over to see other vegan tasty dishes.