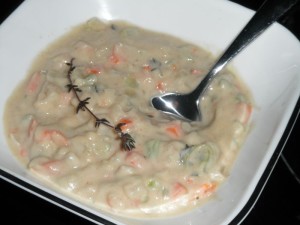 Ah, soup. There's nothing like soup this time of year, and the colder it gets, the more it needs to be creamy soup. I'm not one for faux dairy or cheese substitutes, and yet there are a lot of other creamy foods, like my Kale in Chestnut sauce and Celery in Chestnut Sauce (notice a pattern?) But this one is totally different, yet hits the spot in the same way. It's really easy, really yummy, really nutritious soup which is perfect for this time of year.
Roasted cauliflower is a staple here, and every now and again I forget and buy 2 caulis. They do freeze okay, but the texture isn't quite as wonderful, so I got intrigued by the idea of cauliflower soup.  For the veggies, Trader Joe's sells containers of pre-chopped carrots/celery/onions, so the work involved is pretty non-existent, which is my cup of tea.
Oh, and speaking of non-existent work, Carrie of Ginger Lemon Girl shared a list of 100 easy recipes.
1 head cauliflower, roasted with olive oil and 1/2-1 bulb of garlic
2 Tablespoons olive oil
A big 'ole container of chopped veggies (maybe 3 cups?) chopped carrots, onions and celery
A small handful roasted almonds, around ¼ cup
4-5 big sprigs of thyme
3-4 cups broth–any kind works. I usually use Pacific Organic Chicken Broth
or their Vegetable Broth. I love Pacific because they're organic, gluten-free & don't use GMOs
Salt
White pepper, to taste
Roast a head of cauliflower with at least a ½ head of garlic. This can be done ahead or frozen.
Heat the olive oil over med/med high heat, and add in the veggies and thyme. Let them brown, 5-6 min and stir occasionally. They're done when they are crisp-tender.
Meanwhile, puree the cauliflower mix and almonds with 3 cups of broth. Obviously this is simple in a Vitamix. If you're using a food processor instead, using almond flour instead of whole almonds is probably a good idea.
Add puree into the pot with the browned veggies. Stir, add more broth, salt and pepper as needed.
That's it! Simple, yummy, creamy soup. I was amazed at how satisfying and filling it was. My buddy Shirley of GFE & All Gluten-Free Desserts  commented how much it looked like pot pie filling, and I bet it could be used well there, too.
I'm submitting this to Diet, Dessert and Dogs, who hosts Wellness Weekends. I'll also submit it to Iris' 5 ingredient Mondays.