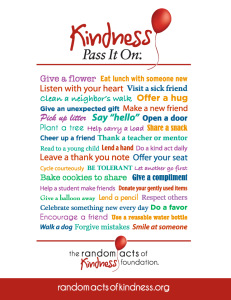 It's Random Acts of Kindness Week! There's very little that has brought more happiness and joy into my life than sharing and receiving kindness with others. So to celebrate, I'm giving away a copy of Sharon Salzberg's book, The Kindness Handbook. (See below.)

To enter, please share a story about a time when you were touched by kindness.
I'll go first. When I was 21 and just moved to Berkeley, I suddenly developed a mouthful of cavities. I went from only having 2 to having 13 within less than a year because of a weird medication reaction. When I found out, I was completely overwhelmed. I was scared, I was confused, I couldn't afford it, and I wanted to curl up in a little ball with my favorite stuffed animal from when I was 4. So I did the only logical thing…run the 2 or 3 miles home, hysterically crying the whole way.
A few blocks from my apartment, a homeless man stopped me. "Honey, I don't know what's wrong, but I promise, it'll be okay. You'll be okay." I stared at him, totally confused. He repeated it a few times.
He was minus a few teeth, he clearly hadn't showered in quite some time, and presumably had enough to worry about already, and yet he went out of his way to offer ME kindness.I don't think I answered him because I was so surprised. When I calmed down, I went back to find him and thank him, but he was gone.
It really illustrated that it doesn't matter what someone has (or doesn't have), we all have gifts to give if we choose to. Any day, any time, any where. It made a difference for me in that moment, and I appreciate that he went out of his way.
I'd love to read about a time you offered kindness or you received it. Please leave me a comment below, and I'll choose one randomly between now and Feb 20th for the book, the Kindness Handbook.
UPDATED: Congrats to Derva for winning the book!