Alright, so the chocolate votes win!
I couldn't wait to post these. I feel like a 4th grader, beaming with pride, waiting for show and tell time to share them with you.
It's kinda crazy how good these are, and how easy they are to make. Figuring out the right formula was a total beast, but now that I've got it *poof!* it's magic. Since I can make delicious vegan, "everything free" paleo-friendly chocolates in less than 5 minutes, I may now be done with chocolate bars for good.
So I wanted to make my own chocolates. And I seemed hell-bent on finding every way there was to fail at it. Maple sugar, coconut sugar, cocoa powder, too much fluid…none of them worked well. They seize, the get grainy…all sorts of ick. And I know there are cocoa butter/cocoa powder recipes out there, but (IMHO) the taste is great, and the mouthfeel is just wrong. But these babies…they're pretty marvelous, even if I do say so myself.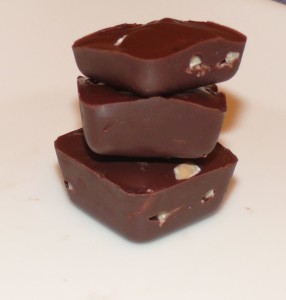 It's so amazing to me how my body responds to cane sugar, even a small amount. I have some, I want more,  I have more, I want more…and repeat. So yes, I can and do often eat them mindfully, but I need to do it deliberately and it takes effort.
However, I have one (or two) of these and I say, oh, that was tasty. And I'm done. My body is happy.
If you don't have a kitchen scale, you can probably eyeball it.
What you'll need:
Add ins: chopped nuts, nut butters (I love macadamia butter, hazelnut butter and Brazil nut butter), unsweetened cherries, toasted coconut flakes, etc.
Candy mold trays and/or mini liners
For the small molds, I use about 1/8 tsp add ins. For the hazelnut butter cups, I use a scant 1/4 tsp.
In a heavy glass bowl, nuke the cocoa mass and cocoa butter for 90 seconds, or do it over a double boiler. Microwave the maple syrup for 10 seconds, or have it at room temp. Once the chocolates are thoroughly melted, quickly add the maple syrup and mix thoroughly. Add in stevia and ground beans. Allow to cool down for a few minutes, stirring every 30 sec.
Pour chocolate into a mold and layer the chocolate with add ins.
ALLOW TO COOL COMPLETELY. This will take a few hours. (This is the only hard step. Best of luck)
*Notes: I presume vanilla extract works, but I haven't tried it.a few!
You can easily double this recipe.
I'm submitting these to Ricki's Wellness Weekends. Hop on over to see other yummy eats & treats!