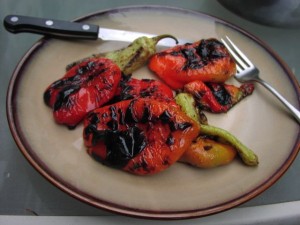 First, an ode to my peppers, from their very beginnings
Just a baby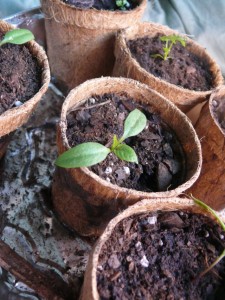 Seedling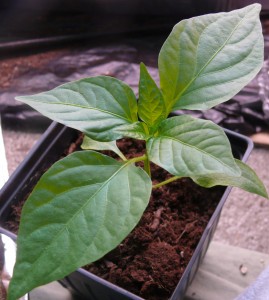 Go, baby, go!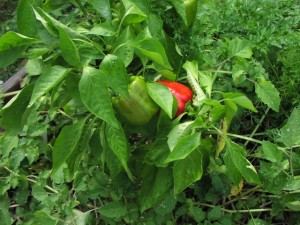 Red peppers are one of my favorite foods. They're amazing roasted, better grilled, and best, grilled with fresh herbs. There's something about adding herbs and sea salt that just adds another dimension of yum that just puts them over the edge of total yumminess. My favorite is with thyme, but I've used rosemary for a change, too. You just can't go wrong.
Not only that, the leftovers are incredible! Red pepper soup. Red pepper sauce. Red pepper dip. Are you drooling yet? And no, I do not discriminate. Yellow and orange peppers are just as welcome on my grill, but they're usually harder to come by. I usually use bells, but smaller ones work, too. About half of the ones in the picture of grilled peppers above are actually from my garden
My poor husband knows that no matter how many peppers we make, I'm eating most of them, and so help him if he tries to steal my peppers. Seriously, good grilled red peppers are up there with chocolate in my book.
9 peppers, seeded and chopped or torn in 4ths (depending on the size)
2 loosely packed tablespoons of fresh thyme leaves
1/2 teaspoon of sea salt
1/4 teaspoon of cayenne (optional)
1/2 teaspoon of vitamin c crystals, a good squeeze of lemon, or splash of balsamic vinegar (optional)
3 Tablespoons high heat oil (almond, avocado, rice bran, high heat sunflower or safflower, etc)
Mix peppers with seasonings. This can be done a few hours in advance if needed. Put peppers on grill on low to medium heat skin side down. Turn once they've started browning (about 5 minutes) and grill 3-4 minutes more on the second side.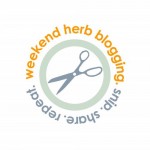 This is my submission for Weekend Herb Blogging, originated by Kalyn's Kitchen. Our host this week is Ulrike from Kuchenlatein. The posts look so yum that I'm going to have to find a site that does translations!