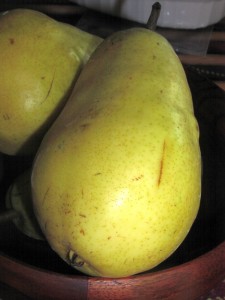 I was torn between pears and cinnamon for this week's menu plan ingredient.  Both are such autumn foods.  I love pears, and their lush, juicy sweetness.  The Farmer's Market is overflowing with pears, and I plan to make a pear cake this week.  If it works, you'll hear more.  If not…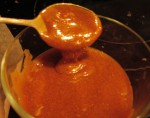 Speaking of things that worked and didn't, I've been busy in the kitchen this week.  As I'm now officially grains and sugar (and honey) free until further notice (phooey!!!) I decided not to attempt an apple cake for Rosh Hashana. Instead made agave caramels sauce to dip my apples in.  It was tasty, but not perfect, and I'm still tweaking the recipe.
Ricki, from Diet Dessert and Dogs, is putting out a cookbook soon called Sweet Freedom.  Ricki's been kind enough to let me be a "recipe tester", which has been great fun.   Just check out this Gluten Free, sugar free, soy free buttercream frosting… and since it's vegan, that means no dairy or eggs, either.   Yahoo! I'll post more about it soon.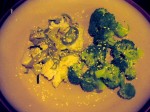 We had actual food this week, too, and I posted one of my favorite recipes for tilapia which is quick, easy, healthy, and totally delicious.
Last, but not least, I've got raspberries again, so I've been working on a raspberry chocolate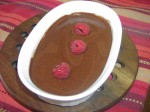 cream filling, and here's the latest effort.  I'm still working on getting the creaminess, but oh, it was yummy.
Funny, I didn't realize how many treats I made this week until now!
Monday
Grillin'
Turkey Garden Burgers
Herb-y grilled red peppers
Tuesday:
Vegan
Basil pesto with quinoa
Wednesday:
Here, fishy fishy
Orange roughy baked in packets with Old Bay spice and peppers from my garden
Thursday
Leftovers!
Friday:
Kalyn's Grilled Chicken with Rosemary and sage and grilled onions
Saturday:
Vegan
Arugala salad with avocado and pine nuts
Kitchen projects:
Pear skillet cake, a grain free riff on one of my absolute faves, my Nana Skillet Cake
we shall see if it works!
Slow roasted tomatoes
From my garden:
Raspberries. Yes, they're back!
garlic shoots
peppers
lemongass
tomatoes
basil, thyme, sage, oregano, rosemary
From the market:
apples
pears
kale
tomatoes
One more thing: If you are a US citizen, please GET OUT AND VOTE! Or get out and register. Here in VA, you can vote already. I think we all owe it to ourselves/our family/future generations to get educated and get out there. I'm stepping off my soap box now…
So what's everyone else having?
Well, Kim of Gluten free is life has a busy week with her children, and so she's got some quick and easy things planned, and even a breakfast as dinner. I hear talk of snickerdoodles!
Karen of Gluten Free Sox Fan is resolving to get more organized and make her health a bigger priority. Yay Karen! She doesn't have pears on the menu, but apples are a close enough cousin. She's going to let us know about her Beef Wellington soon, too.
Sally of Aprovechar graces us with a seasonal, gluten-free, dairy-free, soy-free, and egg-free menu. Since I avoid all of those things too, I'm always a big fan! It looks like she has a busy week of fun outings and delicious foods, and I'm glad to hear of her vegan lasagna success.
Sea of Book of Yum just helped celebrate her DH's 30th birthday, and she made him a feast! She's got her veggie pot pie planned for this week, and I've been eyeing it for months now. Looks delish!
Manda is on her newly engaged cloud of bliss. Congrats, Manda! I certainly understand, and share, her passion for feeding other people, but I do draw the line at using gluten. She has a fun week of international foods planned.
Let's give a warm welcome to Lori, of the Gluten free week. She's got Szechuan peanut noodles with broccoli planned–YUM!!!
Kim at Living free is now officially on the SCD diet and feeling much better. Go Kim! She is working on learning to make yogurt, too.
Ginger joins us, too. She teases me with talk of a pear almond tart, and I hope too hear more, soon! She's got a lot of locally grown and raised foods on the menu, which is just wonderful. As usual, she checks out a bunch of cookbooks for inspiration.
Sarah at Everyday GF has the double challenge of GF on a budget AND GF on the road. I'm looking forward to seeing her suggestions, and her tomato soup sounds great.
Last but not least we have Angela and her crew over at Angela's Kitchen. Boy has she got a busy week! The forbidden chicken and the quinoa pilaf both sound great, and she has info on GF coupons, too.