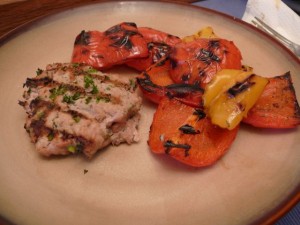 I love grilling for two reasons. First, grilling pretty much means we're having marinated peppers, which are my favorite. Second, it means that my hubby is doing most of the work. I love to cook, but I love a break, too!
Our standard grilled fare is salmon, but we decided to do turkey burgers for a change. They're full of a bunch of herbs from my garden, since parsley, spring onions and thyme are in season. Since I can't have egg, I've had problems with them falling apart on the grill in the past. However, I started using chia seeds and it worked perfectly.
Chia are fabulous little seeds that form a gel. You can get them at your local Latino market, online, or you can order Salba seeds, which share many of the nutritional benefits. Not only are they wonderful binders, but they also are a great source of omega 3 fatty acids.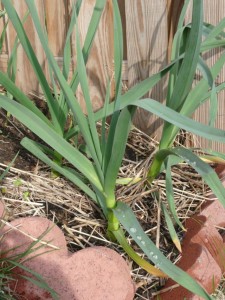 Spring onions are among my new favorite things. I love onions in any way, shape or form, but DH isn't a big fan, so I tend to opt for milder options for dishes we share. I planted them last fall, and was amazed at how big my "garlic" was growing…until I poked around, and couldn't find a bulb. I assumed I'd accidentally gotten leeks, but when I dug them up I was pleasantly surprised with spring onions, and am working on finding new uses for them.
I didn't include a recipe for the peppers because I do them differently each time, but I'll do my best to write it down next time!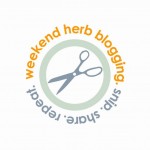 This is my entry for Weekend Herb Blogging, as started by Kalyn's Kitchen. This week's kind host is Cate of Sweetnicks

Turkey garden burgers
1.3 lbs low fat* ground turkey (90-95% lean)**
1 cup parsley, packed
1/2 cup spring onions, shallots, or mild/sweet onions
1 tablespoon fresh thyme
1/2 teaspoon cayenne powder
1/2 teaspoon garlic powder
1/4 teaspoon black pepper
1/2 teaspoon salt
chia gel:
1/2 cup water
1 tablespoon chia seeds
First, make chia gel by combining the water and seeds and allowing it to sit for 20 min.
Mince onion, chop parsley coarsely. Wash hands and combine everything together (you can mix with a instead, but it's easier with your hands!). Make into patties.
Grill until done.
Serve topped with tomato, pickles, avocado, lettuce, etc. on a gluten free hamburger bun, or by itself. Or, of course, with a side of roasted peppers.
*note: It sounds strange, but most the turkey sold here is 1.3 lbs. I'm sure you can adjust to whatever you find at the market.
**I've had several email commentators on the use of low fat turkey. Yes, I know many kinds of fat can be quite nutritious. Quite simply, I feel poorly when I eat a lot of fat, of any kind, but particularly animal fat, so I don't. Coconut, avocado, free-range turkey…my body is not a fan, so I do choose leaner options when I can.
~from Cheryl's kitchen ©2008