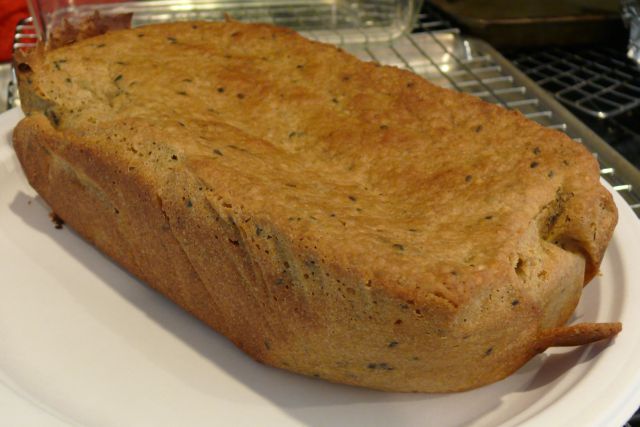 I'll be honest–I don't really do breakfasts. Well, I do breakfasts, but just not breakfast FOOD. My body functions better low carb, and so I have no issue with having last nights' dinner as breakfast. But as the "Go Ahead Honey, It's Gluten Free" for this month is for breakfast foods, I wanted to share a recipe I recently developed. It's largely whole grain, allergen friendly, vegan friendly, healthy breakfast bread that I developed. May's edition is hosted by the luscious Straight into Bed Cakefree and Dried.
I'm sure I'll tinker a little more when I do this again, I am tempted to add in a little orange rind or sub OJ for some of the water. I'm sure you could also try a bunch of different whole grains. The possibilities are endless…if you experiment, please do let me know how it works for you.
Ingredients: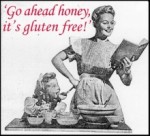 1/2 cup warm water
3 tablespoons of honey (or agave for vegan version)
2 teaspoons active dry yeast
1/2 teaspoon salt
¼ cup rice bran
1/3 cup almond meal
½ cup sorghum flour
1/3 cup amaranth
1/3 cup millet
1/3 cup arrowroot starch or corn starch
¼ cup potato starch
¼ cup tapioca starch
2 TBSP sesame seeds, white or black (I like how the black ones look!)
3 Tablespoons oil
1 teaspoon apple cider vinegar
½ cup carbonated water (can use regular water)
Chia gel:
¼ cup water with 1 T chia seeds
Directions:
Preheat oven at 250 for 5 minutes then turn off. Line a 8X4 inch bread pan with parchment paper.
Combine water with chia seeds. Let sit at least 30 minutes, but longer or overnight is fine. Combine all dry ingredients in a big bowl and mix thoroughly. Combine water, honey and yeast for 5-10 minutes or until fizzy.
Thoroughly mix dry and wet ingredients separately. Combine and mix vigorously for 1-2 minutes (or use your mixer on medium for about a minute).
Put dough in to pan lined with parchment in the slightly-preheated oven, or put covered dough in a warm place, like on top of the drying machine. Allow to rise for 45 min to an hour, or until the dough reaches the top of the pan.
Preheat oven to 375 (wait at least 20 min until oven is hot). Bake for 15 min, then cover with foil and bake for a total of 50-55 min.
Allow to cool for 5 minutes on a drying rack, then remove bread from loaf pan and allow to cool.
Delightfully gluten free, egg free, soy free, dairy free, corn free and sugar free. Yahoo!
~from Cheryl's kitchen ©2008