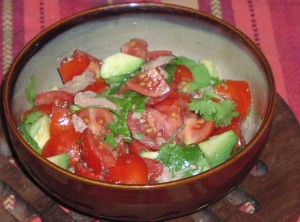 I have long enjoyed the recipes and pictures from Kalyn of Kalyn's Kitchen. Kalyn is the originator and a big promoter of Weekend Herb Blogging, a fabulous weekly display of herbs and unusual fruits and veggies. As an added bonus, she blogs on whole food, healthy, low glycemic recipes. Many of her recipes are naturally gluten free, so a big thank you to Kalyn!!!
I went to a conference last weekend but I forgot my lunch at home and came home ravenous. It was the perfect opportunity to make Kalyn's Summer Tomato Salad with Avocado, Tuna, Cilantro and Lime. I even had all of the ingredients on hand, and used tomatoes and cilantro from my garden. It was the perfect set up since DH was out (silly guy hates tomatoes, avocado, tuna, and cilantro) and so I got to enjoy a few of my favorite things.
It was a great combination, and I enjoyed it thoroughly. Quick, easy, satisfying, and above all, delicious!!! Tuna is actually one of my guilty pleasures that I often avoid because of mercury (I have high blood mercury levels. Most people are not affected by having small amounts, and the FDA guidelines only cover pregnant women and children). So the next day I had leftovers with my savory crackers made with brazil nuts. Brazil nuts are high in selenium, and studies suggest that selenium actually can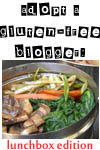 block the body's absorption of mercury. What can I say, I like it when science is yummy.
This is my entry for Adopt a GF blogger, kindly hosted and originated by Sea at Book of Yum. This month has a lunch box theme, and this would make a great lunch.