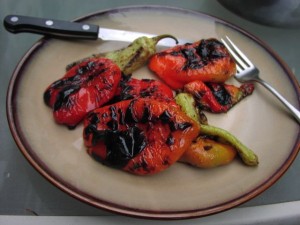 What a busy week of blogging! It's the deadline for the seasonal veggies version of Go Ahead Honey, it's GF, and I submitted one of my favorites, Roasted tomato and Caramelized Onion soup. It was also the day to post the latest Daring Baker challenge, which went a wee bit less than perfectly. Earlier this week, I posted a Thai-ish Red Pepper Curry Paste, which has amazing flavor.
I'm happy to host MPM this week, which was originated by Gluten Free Mommy. This week is devoted to one of very favorite foods, peppers. I love peppers, I would say a freshly roasted, marinated red pepper is up there with chocolate on my list of heavenly foods. I'll be posting my roasted pepper recipe later this week, but the picture above should help to get your mouth watering. About half of the peppers are even from my garden, which makes them even more special to me.
I hope everyone is having a great Labor day weekend! I'm looking forward to a busy week, with my in-laws coming to visit next weekend, too. Both DH and his mom have recently celebrated their birthdays, which calls for a massive chocolate cake. I've got a gorgeous one in my head, hopefully it comes out as well as I imagine it. On the main meal front, DH was requesting pork chops, but pork is just way beyond my willingness for flexibility, so as a compromise, I'll be brining and making lamb chops. I haven't a clue of what I'm doing, but that's the best way to learn. We'll see how that goes
Monday:
Grillin'
Roasted salmon with rosemary and grilled marinated peppers with thyme
Tuesday:
Experimental
Brined lamb chops with plum sauce and broccoli
Weds:
vegan:
Quinoa italiana with broccoli raab
Thursday:
Leftovers!
Friday:Ode to Southeast Asia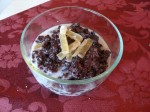 Vegan spring rolls, Malasian curry dipping sauce, grilled shrimp (I think), lemongrass iced tea and Thai spiced black pudding for dessert
Saturday:
Out to dinner with a Chocolate cashew cake for dessert. If it's as good as I hope, I will post a recipe.
Baked good:
Chocolate cashew cake
Banana chip cookies (modified to be gluten, dairy, egg, corn, soy, and sugar free and vegan)
Garden Harvest:

My garden:
Peppers
tomatoes
lemongrass
ground cherries
thyme
rosemary
stevia
basil
From the Farmer's market:
more peppers
plums
apples
cabbage
garlic
Manda of Asparagus Thin is settling into her new surroundings, and trying to juggle different food preferences, work schedules and the like. On the up side, she's now got amazing Farmer's Markets nearby! There may be a peppermint/peach cupcake in the lineup, which certainly has me curious.
Kimberly, of Cooking Free, is working on adding more animal protein back in her diet, and dealing with her daughter's rice and corn intolerance. Maybe she'll share her acorn squash stuffed quinoa recipe with us if we're lucky!
Sarah at Everyday GF is joining us with a fun and thrifty menu plan. She's got salsa chicken on the menu, and some thoughts on the history of Labor day.
Karen, of Gluten Free Sox Fan is starting a new job tomorrow. Best of luck, Karen! She's got a good bit of grilling planned, and a triple chocolate cheese cake. Wow.
Angela is ready for the week, but having more trouble with how big her kids are getting. Time files…She's got a lovely sounding menu, including a lot of garden fresh produce, like watermelon and corn. Quite honestly, her "to do" list for housekeeping chores makes me feel guilty for being such a slouch!
Kim at Gluten Free is Life has a yummy menu and some luscious pizza pictures to get me drooling. She's a big pumpkin fan, and will soon start baking pumpkin everything. She had a great experience where someone actually knew what Celiac Disease is! (wow)
Ginger, of Fresh Ginger, has a range of global cuisine planned. She's also got a lot of peppers on the menu. She's been making her way through cookbooks at the library, and it shows!
Kate, of GF Gobsmacked is gracing us with a healthy lunch menu plan for a busy week! She's a teacher and so this will be a bit of an adjustment. Her apple crisp sounds super yum.
I've also just put up my September GF newsletter on breakfast.
Have a great week!