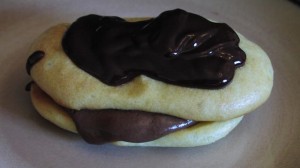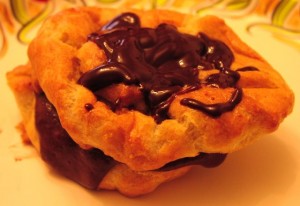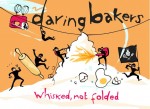 "Honey, I think these are the best pancakes I've ever had", said DH. Under other circumstances, I might have gotten all warm and fuzzy. He doesn't give compliments lightly.  However, I was (in theory) making éclairs for the August Daring Baker challenge, and so I must admit I was less than delighted.
Some things are meant to be, others not so much. I have been very lucky that I tend to have a knack for adapting recipes to be gluten free, vegan, sugar free and more. They're usually not perfect first time around, but usually at least I've gotten them in the ballpark.  The last DB challenges I did exceeded my expectations!!  It's pretty ironic that when I finally decide to follow a recipe fairly faithfully that I had so much difficulty.
The first time around, I followed the Daring Baker recipe and just switched to a GF flour blend and a pinch of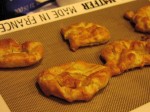 ground chia as the binder. Those darlins' are hubbies new fave pancakes. Then I tried a recipe from the GF Delphi forums. They puffed up, then fell. Despite still looking pretty (or at least prettier), they were a tad raw on the inside.  At least I was on the right track with those.
My appetite for round 3 was non existent, largely because I can't eat them due to allergies, DH doesn't really care for cream puffs, and the rest of my GF tasting squad isn't really into éclairs either. Aside from my pride, there didn't seem to be a good reason to try them again. So éclairs2, Cheryl 0, and for the time being, puff pastry, I'll let you claim this match. But next time…watch out!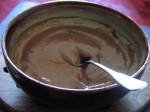 I made a chocolate cherry filling, made of coconut milk, cocoa powder, cherries, powdered chia and agave. The filling was quite nice, and gluten, dairy, egg, corn, soy and sugar free (i.e. safe for me). I love using fruits as a sweetener, and the cherries paired quite yummily with the chocolate. Though it was tasty, the proportions still need more work, though if I get it down, I'd be happy to share the recipe in the future.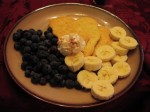 I wouldn't call it a total loss.  DH had a HUGE plate of pancakes to celebrate his 30th birthday.  It wasn't quite what I was going for, though.  Please go see what other Daring bakers have done with their éclairs…I'm sure they look a lot better!  Many thanks to this month's hosts, Meeta of What's for Lunch Honey? and Tony Tahhan.
Ah well.  I can't wait until next month!