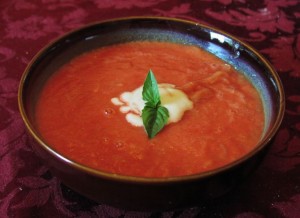 This soup is a celebration of summer veggies, and is one of my favorites!  I make a huge batch and freeze it, and it's such a treat to devour a bowl of summertime in the middle of the winter.
Growing up, I wasn't a fan of tomatoes.  It was only once I started having them straight out of the garden that I discovered they were actually quite yummy!  So I never had tomato soup growing up, nor did I really develop a concept  of what tomato soup should be like.  I made a bunch of batches last year, and discovered that I like thick, serious soup…none of that thin, watery soup for me.  That's why I seed everything by hand rather than using a food mill, because it gives a much heartier soup.  This does take a while, but it's totally worth it–trust me!
As you'll notice, the ingredients are as simple as can be.  That's because when veggies are totally ripe and garden fresh, they shine best with little adornment.  For variety, I've roasted the tomatoes with fresh thyme, or added in a little cayenne.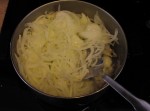 I caramelize onions with just a little oil and long, slow cooking.  I do stir, simply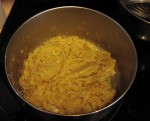 because I like doing huge batches.  Otherwise, there's so little left to enjoy! on!  This summer, I've only found sweet onions at the market, which are super yummy, but very watery, so i periodically "bail out" some onion juice and save it to add it back in later.  That's not needed with yellow onions.   As you can see, they cook way down.
The cashew cream on top isn't necessary, but boy, is it the icing on the cake.  You can also use a dollop of pesto, if you've got some handy.
4 large onions, sliced thinly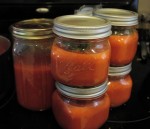 2 Tablespoons oil
pinch of sea salt
4 lbs of tomatoes, seeded and peeled
fresh ground pepper
1/4 cup fresh basil
2 tablespoons of fresh thyme (optional)
Cashew Cream:
2/3 cup cashews
1/2 cup water
1 teaspoon agave or maple syrup
Thinly slice the onions.  If you have a mandolin slicer, it's much easier.  Heat the oil in a big heavy pot on medium heat, and add onions, stirring every 2-3 minutes for the first 10 minutes.   Add in a pinch of salt.  Onions should keep cooking over medium low heat for 70 min or so until dark and gorgeous.  They require little attention, just stir every 10 min or so while you're working with the tomatoes.
Preheat oven to 350.
De- seed tomatoes, by chopping and squeezing gently.  For Romas or plum tomatoes, cutting in half is perfect, for a huge heirloom tomato, smaller pieces might be necessary.
Place tomatoes skin up on a WELL LINED cookie sheet.  Spray or drizzle with oil (if desired), thyme (if desired), black pepper and sea salt.  Roast for 15-20 minutes.  You will have more than one tray.  If you have a Vitamix or a high powered blender, it's not necessary to peel the tomatoes.   If you don't, it's easy to pull the skins off as they are cooling.
Puree tomatoes in batches, adding in onion "water" if there is any.  Pour pureed tomatoes into the caramelized onion mix.
If you're using the cashew cream, soak cashews in water overnight, then blend with water until smooth (this may take a long time!)  Add sweetener to taste.
Gently heat tomato soup, and serve with fresh chopped basil and cashew cream.
Cool to room temp before freezing.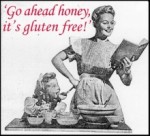 This is my entry to the August edition of Go ahead honey, it's GF, as hosted by the Crispy Cook.  This month's theme is seasonal veggies.  What's more seasonal than tomatoes?