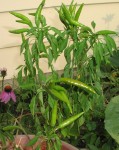 Sometimes I choose my menus, sometimes they choose me.  I meant to make red curry paste with my lovely Thai red peppers (shown here while still green!) but kept putting it off.  Then I happened upon galangal at Wegman's, and it was a done deal.  Ginger is good in a pinch, but galangal is the real deal, and it's hard to come by around here.
The recipe is an amalgamation of a bunch of recipes, with more than a few twists to accommodate my inherent desire for maximum taste with minimum work.  I didn't want to bother seeding peppers, so I made up for it by adding in a mild pepper.  I used garlic scapes (frozen from my garden a few months ago) in the recipe because I couldn't find shallots that looked good and was out of garlic.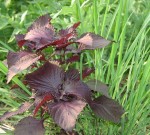 The taste was quite delightful, and we had a lovely dish with coconut milk, the paste, of course, and stir fried veggies.  This recipe makes a lot of paste, so I've got a bunch in my freezer in ice cube trays to last me much of the winter!
I saw Kalyn's Entry for "Grow your own" and I knew I had to participate. Especially since our host, Andrea of Andrea's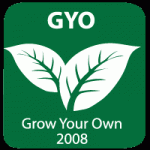 recipes is actually a neighbor of sorts. I love my garden, and always welcome the chance to show off my goodies. And besides, doesn't it just taste better if you grow it? So the lemongrass, Thai peppers, garlic scapes and mild peppers are from my very own garden.
20 fresh red Thai peppers (2-3 inch long)
1 heaping Tablespoon of coriander seeds, toasted
2 big fresh lemongrass stalks, 1 or 2 outer leaves discarded
1 teaspoon whole white peppercorns
4 teaspoons galangal
8 fresh or frozen Kaffir lime leaves
2 tablespoons chopped fresh cilantro roots or stems
1 mild or small bell pepper
1/2 cup garlic scapes
5 serrano peppers
2 anchovies* (more traditional is fish sauce or shrimp paste, but due to allergies, those don't work for me) OR vegan fish sauce OR extra salt and a little soy sauce
1/3 cup of water, or as much as it takes to run the blender.
Toast the coriander seeds in a dry skillet over medium heat for a few minutes.  Put all ingredients in a Vitamix and blend for 2 minutes or until smooth.
If you don't have a vitamix, regretfully, there's a lot of chopping, pounding, and grinding in your future.  Pretty much you have to chop everything finely, then toss into a food processor.