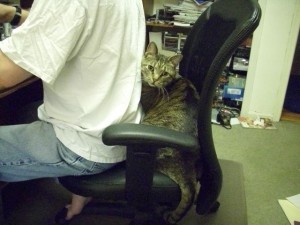 I planned on sitting this one out for time reasons, but changed my mind when I was at the grocery store and realized I didn't know what was on the menu, because I hadn't planned…
Above is a pic of my sweetie and his kitty. They seem to master the art of sharing. When it's me and my cat, we're both shoving away until one of us up and leaves (usually me…) So I share this photo in the spirit of a peaceful week.
I've been busy in the kitchen last week, making my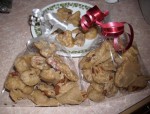 Easy Almond Cookies, and also pralines, both for my sister and for Mamafish (Shellyfish's mama) as part of her 60 day project. I just need to inspire my tush to the post office…
Manda of Asparagus thin is our kind hostess for this week, and she's chosen rhubarb. I LOVE rhubarb. I wasn't able to find the good stuff at the store, so I'll be using rhubarb from the freezer. Rather tasty, rather un-photogenic.
Monday
Spice rubbed butterflied leg of lamb with kale
Tuesday:
Arugula pesto with broccoli and pine nuts, an avocado
Weds:
Chicken with a red curry coconut sauce (using Red Curry paste from my freezer) and bok choy
Thurs:
Turkey and rhubarb compote and celery in a chestnut sauce
Friday:
Darned if I know! most likely leftovers
Baked goods:
the daring baker challenge
Nana skillet bread
cookies (maybe)