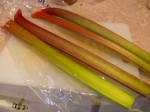 Rhubarb is one of those blink-and-you'll-miss it foods. It's really only in season the tail end of April through middle May, although I occasionally see it at the Farmer's Markets in the fall. And I'm so jazzed that I saw it so many places at the market this weekend, because last year I couldn't find it anywhere!
So here's my ode to rhubarb. In my humble opinion, there's nothing quite like it. I love the tart tanginess, the crimson color, and how it often cooks down to an unreal looking pink. It's a fruit, but unlike most fruits, it's very low glycemic (i.e. doesn't affect blood sugars much).
You know when you think about lemons and your lips start to pucker? I could feel the same thing happening when I was cooking the rhubarb–you can almost smell the sour. This bunch cooked up more a yellowy-green color, as you can see in the picture. It must be another variety of rhubarb that is pink. And I'll have to get my hands on some more, because I gobbled it all down and didn't share with my husband.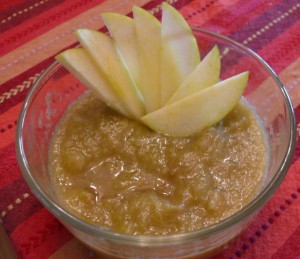 You can, of course, add gobs of sugar to rhubarb and put it in a pie, or mix some into a strawberry pie. But I like making it simple and cooking the rhubarb down to a compote.
4-5 big stalks rhubarb
1/2 cup pineapple or chopped apple
sweetener, to taste
optional add ins: crystalized ginger, powdered ginger, cinnamon, etc.
Trim edges and leaves, discard. Slice rhubarb into 1/2 inch pieces (the smaller the pieces, the quicker it goes).
Combine 1/2 cup of frozen pineapple pieces or chopped apple. Add rhubarb and cook over medium heat. Cover partway, and stir every 2-3 minutes until the rhubarb dissolves.
Sweeten with a pinch of stevia, agave, or sugar.
This freezes very well, because it's mush! Freezing is not going to change that any.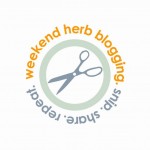 This tribute to rhubarb will be submitted to Weekend Herb Blogging, which was started by Kalyn's Kitchen. This week's host is Gay at A Scientist in the Kitchen
~from Cheryl's kitchen ©2008. Please do not replicate without crediting/permission.