Our kind host this week is Faking it Gluten Free Style.  Love the name! This week's theme is strawberries.  Boy do they look gorgeous, I got some for my husband at the Farmer's Market last week. They were so beautiful it seemed silly to dress them up, they were perfect as is.
Also, I'm hosting a little recipe contest for creative bakers…I plan to try finally try oats for my birthday and am searching for good recipes!
So here's the plan for this week:
Monday:
Market bounty:
Roast turkey with roasted asparagus (bumped from last week's menu because of time)
Rhubarb compote-recipe to follow

Tuesday:
Simple and delicious:
Avocado and roasted tomato/caramelized onion soup
Wednesday:
East Indian/vegan
I'm hoping to convert this recipe for Aloo Dum into a Cheryl friendly dish by swapping a bunch of ingredients. It won't be authentic, but hopefully will be yummy.
Thursday:
Tuna "steak" with steamed artichokes in a lemony thyme sauce.
Friday:
DH's favorite:
Chicken with caramelized onions, rosemary, and garlic on a bed of wild rice with steamed broccoli
Saturday:
Carrot/coconut muffins…and probably real food, too.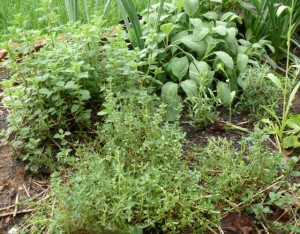 Weekly harvest:
From my garden:
Rosemary
thyme
My herbs are growing out of control! This is my perennial patch (clockwise) thyme, oregano, sage, rosemary, and chocolate mint. The tarragon fades into the background and the marjoram is hiding behind the sage, I think.
From the Farmer's Market:
Rhubarb!
Asparagus
Broccoli
Onions