NOTE: (added May 31st)
As fate would have it, May has been a month of almost non-stop GI distress. So I've come to the conclusion that I just can't try oats now. The most important thing to me is taking care of my body, and there will be another time that is better for me physically
However, the first recipe I plan to make, whenever I am feeling better, are Carrie's Apple Bars. I'll be sending along your prize!!!
I'm turning 30 in two weeks. The big 3-0! And what I really want for my birthday… oats. Yep, oats. If that sounds totally bizarre to you, it is entirely possible that you aren't gluten free. I know some people were never really into oats, but oatmeal was a huge comfort food for me before going GF. I had one (non GF) client tell me that she didn't like boring health food, like oatmeal…and I did my very best not to glare at her. Hopefully I even succeeded.
Anyhow, as you all know, the oats controversy is alive and well. I understand and respect why many people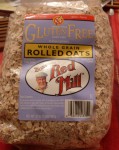 have chosen simply to eat other foods. I think it's important to consider the decision thoroughly and talk with your doctor and all of that…however, I'm ready to take the plunge, because there are so many foods that I can't have due to allergies or intolerances. If I can't have oatmeal, so be it! But I do want to know, one way or another. I do have a bag of BRMs certified GF oats, and it has been sitting in a place of honor in my kitchen, receiving my loving and lustful glances for a few months now.
I needed to set a date, or I will simply stare at the bag until I decide to give it away, and I'll go through this dance until I'm 40. (this is my second bag–I gave the first away). The question is, now what do I do with these beauties? A bowl of oatmeal is too simple, I think. And yes, I realize I am overthinking this, but it has been many years!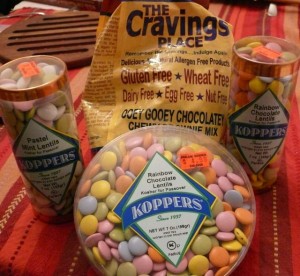 What is YOUR favorite baked creation using oatmeal? Specifically, I'm allergic and/or intolerant to gluten, dairy, eggs, corn, soy, grapes, bean flours, citrus, sesame, vanilla, etc. and am looking for low sugar/sugar free ideas. Impossible? Hopefully not. To sweeten the deal, I have a stash of totally unhealthy gluten, dairy, soy, egg and corn free goodies that I got during Passover (the brownie mix does have traces of corn). If you can't have dairy or soy, you know as well as I do that M&M's are pretty much just things to fantasize about. Here's your chance to make it a reality! And if you CAN eat normal gf treats, I'd be happy to switch the prize to something else.
So…if you'd like to play, leave your recipe in the comments, and I will make one as my birthday treat! It can be anything, not necessarily cake.
The contest will go until May 30th. My birthday is the 23rd, but I have so many things going on that weekend that I can't risk spending the week dealing with a gluten reaction if I get one!