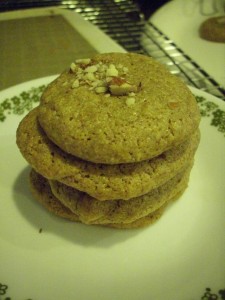 I'm overdue for a recipe post. In some ways, it's because I've gotten pickier. I make a recipe and I like it, but intend to do it again with changes and improve…and repeat…and then I don't end up posting any! It's kind of funny, actually, since there are very few recipes that I don't alter every time, whether they're mine or someone else's. It's just part of the art and fun of baking!
I really like these cookies because they're very easy, and quite tasty. They're soft and chewy inside, and fabulous right out of the oven (although they don't firm up until 10-15 minutes later). The trick is to bake them until they're *just* set. They're good once they start browning, but just a bit tough for my taste. So watch 'em! And, of course, the cookies are gluten/dairy/egg/corn/soy/sugar/grain free, low glycemic and vegan. Yahoo!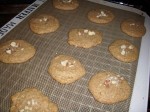 I've been playing with flax cookies in an attempt to add more into my diet, and I've tried quite a few variations of these. They were supposed to be Chinese 5 spice cookies, but the flavor of the spice is quite mild, and I like it that way. I will probably try them with more spice in the future. Like any time you add agave to ground nuts, the secret is just a quick whirl or you have a tacky glob. If anyone knows what it is about agave that interacts with nut butters, I'd love to know…I've never seen maple syrup or honey act the same way. But the baked product turns out well, so no complaints here.
2 cups toasted almonds
8 brazil nuts
½ tsp salt
¼ tsp stevia
2 teaspoons almond extract
1 teaspoon vanilla
1/3 cup quinoa flakes
1/3 cup plus 1 T ground flax seed
1 teaspoon baking powder
1 tablespoon Chinese 5 spice powder
2/3 cup agave
3 T chopped almonds
Preheat oven to 350
Toast almond and brazil nuts. I prefer to toast chopped brazil nuts, it seems to work better. Grind in the processor until it forms a chunky nut butter, scraping down the sides occasionally (4-5 min in my food processor). Add in everything but the agave, and process a minute more. Add in the agave and pulse a few times.
Roll the dough into small balls (maybe 1 inch in diameter?) and squish down, sprinkle with chopped almonds. Using a silpat mat works best, but I'm sure parchment would work, too.Bake until just set–around 10 minutes. They're much better when the cookies don't brown much. Allow to cool on the drying rack for 15 minutes before moving, or they will fall apart.
Enjoy!