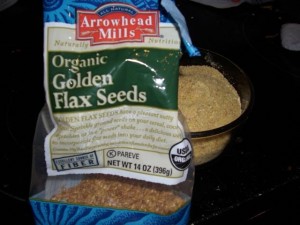 I hope everyone had a good holiday! We had a good time–great to see family, and of course, great food
This week's ingredient is flax. To be quite honest, I don't use flax as much as I'd like to, so I was hoping for a little inspiration! I've been meaning to make the cookies and flax coating, and now I have a good excuse. Often I use salba (chia seed) instead, but both have a lot of benefits in terms of fiber and lignans, and, of course, it's great to get variety. If you're interested in learning more, I have some info on flax and its benefits here.
Monday:
Trout with slivered almonds and roasted peppers
Tuesday:
Quinoa in a lemony thyme sauce, probably with an avocado
Wednesday:
Roast turkey with celery in a chestnut sauce
Thursday:

Chicken with Cajun Flax coating from Shelly Case's book and steamed broccoli
Friday:
Leftovers!
Baked good:
Almond 5 spice cookies (using a lot of flax)
And everyone else???
I'm very jealous of Wendy, who has a clean kitchen. That makes her queen in my book! She's got a lovely looking menu, with fun stuff like GF ravioli.
Sea, of Book of Yum has a new camper and so she's mobile! Obviously, she's still got a great menu plan, and shares a quiche recipe. She's even got instructions on dying Easter eggs naturally with cabbage.
Elizabeth has a lovely baked oatmeal dish with flax on her menu, and chipotle sweet potatoes sound delish.
Hooray for Kim! She's officially going to be the mom of a teenager very soon. Check out her menu, she got a lot planned and her Easter menu, and had me drooling at the thought of lemon bundt cake.
Patti has me intrigued by her cocoa mint lamb. There's a great variety in her menu, and she's got some really lovely pictures on her website.