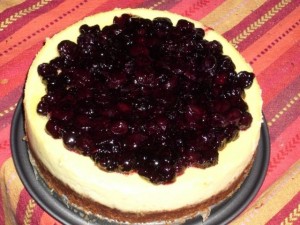 Ah, made you look.  That lovely blueberry cheesecake is part of today's Daring baker post.
Do you want to host a menu plan?  Come on, you know you do.  Drop me a line at cheryl(at) eharrishome (dot) com if you're interested, with your food of choice.
I've opted for carob this week, which I've really grown to like.  I do think there's something really wrong with pretending that carob is, or tastes like chocolate.  But if we're being honest, and appreciating what it is, it's pretty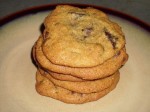 darned yummy.  Most of the incentive for this week's ingredient is Ricki's recipe for Carob Coconut Sweeties.
It's been a fun week of baking, including these cookies, my Nana Skillet Bread, and the Daring Baker challenge, which was a whole bunch of luscious cheesecakes.
Monday:
Salmon and herb-y roasted peppers
Tuesday:
Avocado and crispy herb crackers

Weds:
Mint Chicken and roasted asparagus
Thursday:
Freezer diving: turkey chili
Friday:
National Foundation for Celiac Awareness GF cooking spree
Treats:
Hazelnut chai cookies
And everyone else?
Sea from Book of Yum joins us with a great menu with a wide range of global cuising.  She shares a recipe for Tahini beet salad, and plans to make a carob-rice milk concoction that sounds delicious!
Elizabeth of A Modern Gal shares about her kitchen philosophy.  She has garlic ginger chicken on the menu, which sounds great, and many of her recipes have unexpected extras, like cabbage in the sauteed spinach.
Angela has a busy week in store, between orchestra practices, classes and all sorts of running around, including the Breast Cancer 3 day.  Her almond crusted chicken sounds yummy.
Kim from Gluten free is life is enjoying the warm weather, and has a variety of yummy baked goods on the menu, like bread, brownies and PB cookies!  She's even got some real food, like bourbon chicken, too. 😎
Ginger of Fresh Ginger has an exotically flavored menu as well.  I'm all about the Chimichurri sauce and hope she shares her recipe.  Stop by her site to see the pics of her morels!