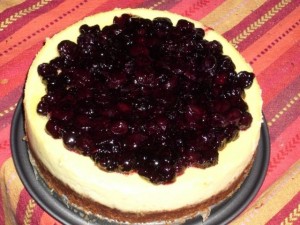 Ah, it's that time of month again, when luscious photos of overly indulgent Daring Baker challenges appear.  It's always such great fun!
The April 2009 challenge is hosted by Jenny from Jenny Bakes. She has chosen Abbey's Infamous Cheesecake as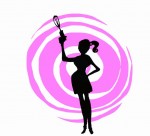 the challenge.
Now, cheesecake used to be my favorite food.  Without dairy or soy, it just wouldn't be right.  So I opted to make cheesecake for the masses and just liberate the crust of gluten, and do a simple ground almond crust with a hint of cinnamon.  And boy did I have a good time.  One 7 inch blueberry cheesecake, 1 little blueberry, 1 mini praline cheesecake, and 1 mini chocolate swirl, too.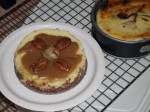 The recipe was super simple.  It's amazing that I've forgotten what cheesecake batter looks like, and each time I do it, I'm reminded why I swear I'm done with recipes that require a waterbath.  Especially since the mini-cheesecakes required a mini waterbath, and had to cool down in the toaster so that the big one could bake longer…it was a big of a logistical mess, but worked out surprisingly well.
Do check out the blogroll to see what everyone else came up with.  It's hard to go wrong with cheesecake. 😎 And, of course, I can't wait to see what's in store for next month.