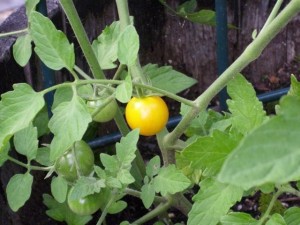 Another busy week! It's hard to catch up sometimes (all the time?) But I skipped last week and discovered that meant running to the grocery store more often and running out of necessary ingredients, so planning is a must.
Heather of Celiac Family is our lovely hostess for this week, and her ingredient of choice is balsamic vinegar. It's great on strawberries, and offers a nice shot of flavor…but as I'm allergic, it'll only be on DH's salad.
I'm eager to see people's menus. I've realized that I've gotten a wee bit boring and repetitive, and may have to break out some new recipes to try next weekend.
My garden is starting to really get rocking. I've had my first tomatoes and cukes, and everything is getting big! I need to get out and take pictures. It's such a fun day, when I peek at a plant and there's a ripe tomato looking back at me! What's even funnier is that I thought I only had red and orange tomato plants this year. Whoops.
Monday:
Buckwheat soba and sunbutter sauce with broccoli and carrots
Tues:
Turkey in a Thai coconut sauce with broccoli
Weds:
Avocado and tomato with caramelized onion soup–one can left in the freezer from last year, so my tomatoes better start producing!
Baked kale chips
Thursday:
Chicken with garam masala and roasted cauliflower
Friday:
Leftovers…it's starting to become my default meal
Baked goods:
hazelnut torte
raspberry jam
Heather's Divinity raspberry tarts
From my garden:
tomatoes
peppers
garlic
basil, parsley, thyme, oregano and more
raspberries
blueberries (a few, not many)
lemongrass
From the Farmer's market
Cauliflower
PEACHES!!!
kale