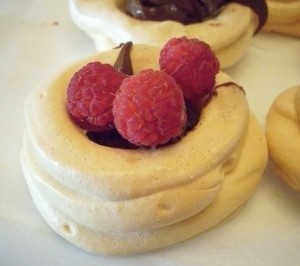 I haven't gotten to adopt a GF blogger lately, but as soon as I saw Heather's Raspberry Divinity Tarts, because I thought they were just about the cutest thing ever, my DH loves raspberries and I have a gob of raspberries growing right now!
They are SO cute. The only thing is that they are high maintenance and get all sorts of mushy and sticky once you uncover them and add the raspberries, so gobble them down. It wasn't hard to talk people into it, and they do keep well in a sealed container. Everyone loved them, and I'll certainly make them again! I followed the recipe, but had it preheated too high, so that's why they're a bit more tan than Heather's. I filled them with a faux Nutella paste (ok, I confess, I wanted chocolate hazelnut paste and I think the rest of the recipe may well have been an excuse to indulge).
Do check out the other recipe that Heather contributed to Sea's Baby shower. The pictures are great and there's good info, too. I'm delighted that I got a chance to check it all out!