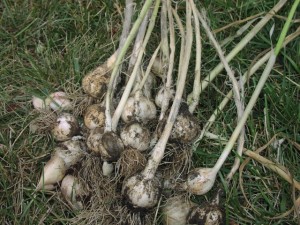 I love garlic. Thankfully, my husband, does, too! It can dress up…let's see, pretty much anything. I've been planting more and more garlic each year, and it's great, from the scapes (the green shoots on top) to the bulbs, which start maturing about now. I may roast a lot of my garlic bounty, but also usually chop up en masse and freeze, so that it's ready when I'm feeling particularly lazy.



I am also hosting Weekend Herb Blogging (WHB) this week! It is a lot of fun, and I'm so glad for this new reminder to get back to participating regularly. Kalyn originated the event, but Haalo is the current WHB coordinator. The rules are here, along with the schedule.
So what's cooking? I made an apple pie this weekend, chocolate dipped strawberries, and
experimental bread that was interesting…but…yep, not ready for prime time. I have promised myself more time to experiment with cooking, and the pineapple chicken should fall in that category. I'm hoping for one new thing a week…we'll see how that goes!  Getting to be a WHB regular again will certainly help.
For next week:
Monday:
Lemon Mint Quinoa and fresh tomatoes
Tuesday:
Chicken in a Pineapple garlic sauce with steamed broccoli
Weds:
Tuna and apple
Thursday
Nightshade stew with garlic, too and an avocado
Friday:
leftovers!!!
Baked goods: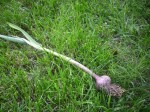 berry good pie
carob chestnut balls
From my garden:
garlic
peppers
tomatoes
serranos
cukes
basil,
thyme, rosemary, mint, lemongrass, etc.
raspberries (last ones–very sad)
blueberries
blackberries
From the market:
peaches!!!
cherries
blueberries
Kim, of Gluten Free is life has Shrimp scampi on the menu.  My DH would be jealous and I should really make that for him soon!  She's also gotten her hands on one of the new Betty Crocker mixes and it'll be nice to hear how it turns out.
In My (CSA) box joins us again after a hiatus (welcome back!!), and reviews a trip to merry old Ireland. Her menu looks heavenly and contains winners such as broccoli raab, falafel, dal…yum!!!
Sea has been busy (seriously, who could blame her???!!!) with a baby on the way and she's just moved, too.  Not only that, but she had a tooth out and so this week's 'menu is filled with soft foods.  Of course, knowing Sea, soft doesn't mean bland or boring!
Heather of Celiac Family has her hands full this weekend with renovations, so she's keeping it simple.  Her pork chops with black beans sound delightful and easy, too.
Esther joins us with some fresh garlic from a neighbor.  She's got globe artichokes on the menu, which sounds great because the ones near here aren't looking so hot.  And  she's got gooseberry curd tarts on the menu, too.  Yum!
Angela posted her menu,  and she's making good use of her crock pot and freezer.  Smart woman!  She's a big fan of garlic, but what really caught my eye was the list of fun treats she's bringing to Girl Scout Camp.
Ginger joins us with garlic and garlic scapes in her menu.  The Southern Indian night sounds divine, and she's got all the greens she can handle from her CSA–lucky woman!