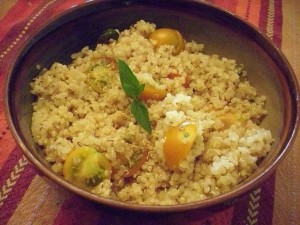 Quinoa is just a perfect food for a summertime dish.  Quick, easy, delicious, naturally gluten free and high in protein and fiber…and easy to take along.  Consider me a big fan.  Generally, I'm partial to my Quinoa Italiana or Southwestern Quinoa Salad, but this is the epitome of simple and delish.
This can be easily dressed up or kept basic.  Sauteed garlic is a nice touch, and grated lemon zest works, too.  The mint provides a nice and fresh taste, and I always have much more mint than I can handle!  In the summer, I add in baby tomatoes, in the winter, steamed broccoli is a great compliment and I use thyme instead of mint.  Like all simple recipes, fresh ingredients make all the difference.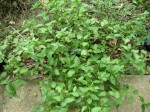 If you've ever grown mint, you know that it's quite an assertive plant.  It's an invasive plant, and I planted it in a container to keep it from getting too aggressive.  But it actually grew out of the pot somehow, and has continued on its quest for world (or garden) domination.  Good thing it's tasty, or we'd have to do battle and I'm afraid it would win.
Lemony Mint Quinoa
Serves 2 as a main meal, 3 as a side
1 cup quinoa, toasted
2 cups broth
juice of 1/2 lemon
15 mint leaves, coarsely torn
salt and pepper, to taste
2 cups halved grape tomatoes
Toast quinoa in a dry large skillet over medium heat until it starts smelling toasty and browning a bit (10-15 min). Note: this step can be done in advance or skipped altogether, but it does enhance the yum factor in a big way. Add broth to the pot, bring to a boil and simmer 10-15 minutes or until done. Stir halfway through and add in 1/2 the mint leaves. Squeeze in lemon juice, season with salt and pepper to taste. Add in tomatoes and the rest of the mint leaves when cooled.
This ode to mint is my weekly submission to Weekly Herb Blogging, the brainchild of Kalyn, who passed the torch to Haalo. I'm this week's happy host!