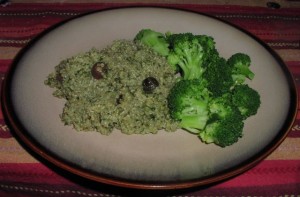 I decided to choose one of my very favorite foods as the theme for this week's menu plan.  This yummy Incan food is a seed, not a grain, which is what makes Quinoa so fabulously nutritious, and the only complete protein that's in the veggie kingdom.  And did I mention easy to make?
My favorite quinoa recipes:
Quinoa Italiana
Southwestern Quinoa Black Bean Salad
Lemony Mint Quinoa
Many others feature quinoa, too
Chai Breakfast Cake
and I'm sure there are others I'm just not thinking of!
I think the reason I chose quinoa, though, is an excuse to make my almond quinoa cookies which I really need to post. Like this week, even.
I love the idea of the new post for Heidi's quinoa skillet bread. No, it's not GF, but very easily could be! And I'm looking forward to seeing how everyone uses quinoa.
This week, we're taking it easy. I did a massive cooking binge last weekend (homemade applesauce, honey cinnamon cornbread, cinnamon rolls, brownies with pecan frosting, homemade mint lemonade, meringues and more) and so I'm a little kitchen shy…I'll get over it soon, I know.
Menu Plan:
Monday:
Lemony thyme quinoa (mint quinoa recipe, just using a small amount of thyme instead)

Tuesday:
Quick Mahi Mahi in a tomato sauce with peppers
Weds:
Chicken in a mint pesto sauce with broccoli
Thursday:
Steamed veggies with a Malasian curry sauce (from spice and herb bible)
Friday:
Leftovers
Fun stuff:
almond quinoa cookies
And everyone else?
Heather of Celiac Family has a yummy looking Quinoa Indian Chicken, and she's got Tilapia Parmesan on the menu too. I'm tempted to make her pulled pork when I go out of town next (I don't eat pork, but DH LOVES pulled pork.)
It's worth checking out In my box just for the pictures! Scrumptious has a great looking line up, including unusual ones, like stir fried lettuce and butternut squash risotto.