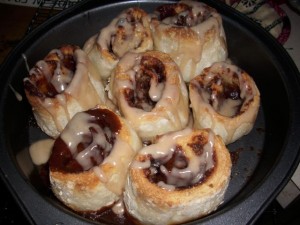 When I first saw the picture of Cinnamon Quill's cinnamon rolls, (the gorgeous picture to the right) it was a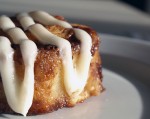 moment of instant salivation. I mean, come on! It's like a work of art. Not only are the pictures amazing, but you can almost taste them and find yourself sniffing wistfully at the screen. Or maybe it's just me. And I love her spirit of experimentation with modifying recipes and looking at different ways of making super yummy food. Most of it is vegan or vegetarian, too. If you haven't seen her site before, you'll be delighted by the recipes and the food porn *ahem!* luscious pictures.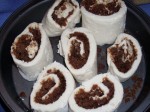 So I took the opportunity of Adopt a GF Blogger to try out the recipe for cinnamon rolls. I followed the recipe as written, but made the roll the night before and had it ready to go. Rather than filling as directed, I used a combination of cinnamon sugar and pecan butter (yes, I said pecan butter) and glazed them with a pecan butter/cream glaze. I figure why not go all out!
They were very quickly devoured and thoroughly enjoyed. I will definitely make them again, and I'm tempted to veganize them, too.
To see more adoptions, do see Book of Yum's roundup.