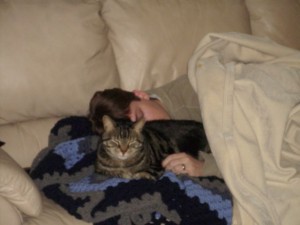 My kitty is a good attack cat…he makes sure his humans stay safe, largely because we have opposable thumbs and can open the food container, and he can't.
I got a comment on one of my last posts asking for ideas of cheap and easy meals, so I thought that would be a great theme! It's one of the questions I get most often at work. In a nutshell, it's largely all about using real foods, not GF specialty foods. I rarely buy GF pasta, GF baked goods, etc. and all of the stuff that gets super expensive. I do use GF flours, but more and more I've been playing with grain free cooking and using nuts and seeds as the "flour".. Fruits, veggies, nuts, seeds, fish, beans, dairy, rice and wild rice, etc. are no more expensive on a GF diet, and often eliminating processed foods is cheaper overall, too. So almost all of my food recipes are naturally GF, but I'm also someone who enjoys exotic ingredients so some are more economical than others. And that was the case long before I'd heard of gluten.
I'm sure everyone will have lots great ideas, and can't wait to see what you come up with! I will be out until late-ish Monday so my apologies in advance if some of the posts are delayed.

Calling all hosts: We've thinned out during recent menu plan Mondays. I'm able to host about once a month, but that's about it, and more than that isn't much fun. So if there's enough interest, I'd be happy to continue, or we can agree to retire GFMPM as well. Or if anyone has thoughts on how to get the word out and get more participants, I'm all ears…
So last week was a fun one for me but busy, too. I posted chocolate sunbutter cookies, which I enjoyed too many of for sure and I made a Nana skillet cake, which is one of my favorite easy delicious recipes.
Monday:
Beef in coconut curried sauce with roasted cauliflower
Tuesday:
Lemony Mint Quinoa with avocado
Weds:
Roasted rosemary salmon and broccoli with garlic
Thursday:
Turkey nightshade stew with gobs of fennel (I just LOVE fennel!)
Friday:
leftovers…
Baked goods:
Hazelnut cookies
Heather of Celiac Family has a birthday bonanza (3 birthdays!) and an Easter celebration, too.
I love the idea of clay pot chicken, and Heather also has a list of some cheap and easy GF recipes, including a crock pot pulled pork.