I am delighted to host the 191st edition of Weekend Herb Blogging!  There were so many delicious entries, and luscious pictures, that I was actually motivated to try another recipe so I'd have a prettier picture.   There's such a large range of dishes, from granita to an apricot masque.   So whether you're looking for a yummy dish, a cool drink or a way to tighten your pores, you're set.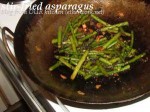 Please do note, my gluten free friends, that some of the recipes just happen naturally and lusciously be gluten free, but not all are.
Elizabeth from Blog from Our Kitchen in Toronto, Canada joins us with Stir Fried Asparagus with Peanut Chili Sauce, featuring  Black beans and ginger.  I'm very jealous that asparagus is still in season for her, and she recommends pairing it with her Jaggerty Chicken.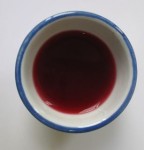 In this heat, it's hard to remember that some people are in the middle of winter! "Another Outspoken Female" is representing the Southern Hemisphere in Melbourne, Australia, and sends us her recipe for a winter warming tea, featuring hibiscus.  Her blog is 
Confessions of a food nazi
, which features healthy and unprocessed foods…at least most of the time.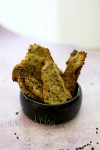 Anh, of Food Lover's Journey joins us from Sydney, Australia with delightful Sesame and Tofu free for Biscuits. These Korean treats are  not just made using sesame, they're black sesame.  I've always liked black sesame because it looks more dramatic, but I didn't realize that they're more nutritious, and higher in minerals.  It aways works out when the healthiest things are the tastiest!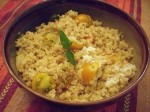 I'm Cheryl of Gluten Free Goodness from Alexandria, VA and I shared my Lemony Mint Quinoa.  I must have 101 ways to make quinoa, and I love it because it's so yummy, quick, easy and nutritious (and naturally gluten free!)  It was the perfect thing to take along on a long car ride to see my sister and her new baby.  Much nicer than anything you can get at a rest area!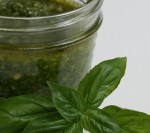 Pam of Sidewalk Shoes brings along a beautiful, garden fresh homemade pesto and some good advice!  She shares a recipe for this summertime classic, which can be easily frozen.  Apparently basil should be harvested every month (mental note: must go harvest basil) and now she has a bunch for the freezer.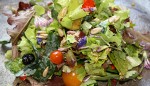 Winnie Abramson of Healthy Green Kitchen joins Weekend Herb Blogging for her first time (welcome, Winnie!).  She hails from New Paltz, NY and she's shared a recipe for a homegrown herb and flower salad, featuring tasty flowers like nasturtiums, a variety of different herbs, and dried fruit.  Sounds delish!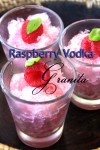 Who needs retail therapy when there's kitchen therapy?  Dhanggit of Dhanggit's Kitchen joins us from Aix en Provence, France and shares a seasonal Raspberry Vodka Granita designed to lift her spirits (no pun intended).  The pictures are so vivid you can almost feel the ice!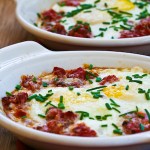 Kalyn of Kalyn's Kitchen, the wizard behind Weekend Herb Blogging, joins us from Utah with her Tuscan Baked Eggs with Tomatoes, Red Onion, Parmesan and Thyme. While it doesn't use a lot of thyme, it really makes the dish and adds depth to the tomato sauce. This naturally gluten free dish is a nice twist on brunch or any light meal.
Haalo of Cook Anything At Least Once has done a wonderful job in taking over from Kalyn as the resident WHB hostess, and she joins us with Baked apples, featuring Pink Lady apples, which are native to Australia.  The recipe features pomegranate seeds, and is a winner in taste!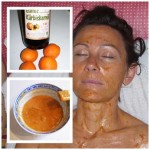 Fruits and veggies are supposed to do wonders for your complexion, and Brii from Briiblog gives us a nice way to prove it with her Apricot Face Moisturizing Mask.  Brii is from Valsorda on the Garda Lake.  As she says, no miracles, but it's very relaxing.
So thank you all for participating, and to Haalo for her efforts coordinating!!  The next hostess is Lynne from Cafe Lynnlu.
If I've left out anyone's posts, please email me cheryl (at) eharrishome (dot) com