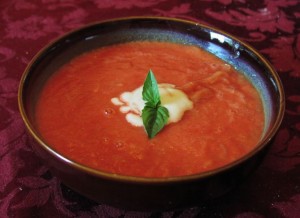 I hope you all had great New Year's celebrations and look forward to seeing the yummy food that went along with it!
This week's theme is soup, because I love soup. Soup is the best part of winter months. It's also the silver lining to colds and sore throats. At the risk of sounding like the shrimp scene from Forrest Gump, there are so many great kinds of soup! Tomato soup, chicken soup, turkey soup, sorrel soup, red pepper soup, beef soup, Asian ginger soup…and those are just the ones I've eaten this past month. I've gone through most the supply in my freezer that was supposed to take me through the winter. I guess that just means that it's really time to kick this cold!
The heart of really good soup is amazing broth. While I make some great vegan soups, I have never mastered the art of a really good vegan broth, mostly because the key is older veggies and using the skins, and that tends to cause my mold issues to flare. So most of my experience making broths are chicken and turkey based. They're as easy as can be–it just takes time (a lot of it!)
Here's a link to my GF newsletter for January, which is on label reading and the "may contains" statements. There's a comment period for FDA which expires Jan 14th, so if you have an opinion, time is short!
Monday:
Turkey soup with cabbage
Turkey cutlets (maybe)
Tuesday:
Vegan
Garlicky quinoa and broccoli, with an avocado
Wednesday:
Buffalo burgers and roasted peppers
Thursday:
Curry chicken with roasted cauliflower
Friday:
Leftovers
Saturday:
CHICKEN SOUP!!!!!
Baked goods:
Sugar free peppermint meringues and a Chai breakfast cake
Let's have a peek around the web:
Elizabeth, of A modern gal is joining us for the first time (welcome, Elizabeth) and the intent to clean out her freezer! I should really try that, and my DH would be all over the Indonesian spicy rice, so I hope she shares the recipe!
Wendy from Celiacs in the House has a crock pot heavy week, which is such a great way to get things done easily in the winter. Her black bean soup sounds delish. She's new to MPM, too, and hopefully will stick with our happy little group. It really DOES help organize things!
Esther drops in with a great looking menu and  and she's juggling a small one, school and life.  Easier said than done!  As usual, she draws her inspiration from different cookbooks and is focusing more on baking since GF foods are so expensive!  Hopefully she'll share results with us.
M-Elle of Cooking and uncooking is in the midst of snowy weather.  She  is also back to work and school, so she's keeping things basic.  M-elle, you can come for dinner if I can have a falafel sandwich!
Seamaiden of Book of Yum joins us with a luscious looking piece of pumpkin bar and a beautiful cat pic to boot.  I'm intrigued by the grilled fennel, because I'm currently braising fennel and I've never tried grilling!  She's also recently posted her Daring Baker Yule log, too, which looks gorgeous.
Manda is sporting a new blog look this week.  She's not a soup kind of gal, but she does appreciate a good stew.  She does, however have Mulligatawny Soup on the menu which I've always been tempted by but never made.
Kimberly at Gluten Free is Life has joined us, too (wow, full house this week!).  She just happens to be making crockpot taco soup.  Her goal is to make a recipe from Carol Fenster's 1001 GF recipes cookbook a week…which should hold her a good long time.
Angela is quite the soup and crock potting gal, and she joins us with a yummy looking week.  I'd take the smashed cauliflower, the dijon chicken…you get the idea.  She's also got a nice new look on her site.
Ginger of Fresh Ginger had me drooling from the first soup picture.  Her Vietnamese style fried rice with lemongrass sounds intriguing.
Karen from GF Sox Fan is joining us again! (yay!)  She's got a beautiful onion soup recipe with a nice picture, too.
By the way, if anyone wants to host, just drop me a line…