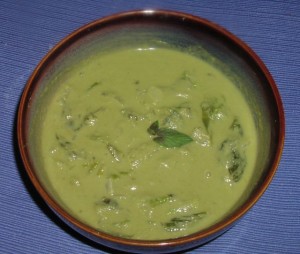 I made sorrel soup for the first time last year, and told my husband. He started laughing, and said, squirrel soup? Um…not even close!.
Sorrel has a nice tart taste to it, and is supposed to be lovely with fish. Next time! It can be hard to come by, and I was happy to find it at the market.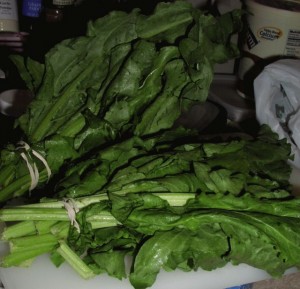 I know I saw a recipe last year, but don't remember where, so I decided to just wing it. I left some of the lettuce and veggies un-pureed because I like the texture and hint of crunch, but that's a a matter of personal preference.
Last time, I thickened with a potato, but those are off limits, so I used a little coconut flour. I'm sure more walnuts or another root veggie like parsnips would work, too.
2 Tablespoons oil
1 cup diced onions
2 big romaine hearts, chopped (divided)
3 cups veg or chicken broth
4 cups or so sorrel
2 Tablespoons coconut flour, or potato flour (NOT starch)
1/2 cup walnuts, soaked overnight if you think of it!
sea salt
fresh mint
white pepper
Saute the onions for 5-6 min until soft with a pinch of salt. Add in 1 1/2 of the romaine hearts and saute a few minutes more. Add broth, bring to a boil and simmer for 10 minutes. Add sorrel and simmer 5 minutes more. Reserve 1 cup or so of cooked veggies and puree the rest with the (drained) walnuts. Add back reserved veggies and add in the last 1/2 chopped romaine heart. Add salt and pepper to taste, and sprinkle with fresh chopped mint.
Enjoy!
This is my weekly offering for Weekend Herb Blogging, the brainchild of Kalyn of Kalyn's Kitchen. This week's kind host is Sounding my Barbaric Gulp
~from Cheryl's kitchen ©2008. Please do not replicate without crediting/permission.