I planned to make a simple peaches and cream ice cream as a fun raw recipe for July Go Ahead, Honey, It's GF "UNCOOKING" edition, but the fates had something more interesting in mind.
It was a bit of a comedy of errors. My first two recipe attempts–banana macadamia candies– were okay, but underwhelming, and time was running out. So I decided to go for one more attempt, peach ice cream, and as usual, I figured I could could wing it. I used young coconuts for a creamy texture, and blended in a few peaches, but you could barely taste them. Coconut milk is wonderfully creamy, but it takes a strong flavor, like chocolate, mint, berries, etc. to mask it. So I hastily ran out to the Farmer's market, and pureed some more peaches. You could taste the peach, but still it wasn't prominent.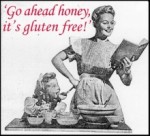 Hmmm. So I had a vat of yummy, peach goop, and I needed inspiration. Pecans? Extracts? And then I realized, of course! Crystallized ginger.
The ginger and peach pairing worked really well, with the sweetness balancing the sharpness of the ginger. I would make vanilla ice cream again, and have chunks of peaches, but I wouldn't do peaches by themselves again. I would try it with pineapple or banana in the future, and will certainly tinker with this recipe again!
You live, you learn. May all my "mistakes" be this yummy!
Makes a batch for a 4 quart ice cream maker
"meat" of 2 young coconuts
4 cups of water (I assume you can sub 2 cans of coconut milk for the coconut and water)
2 tablespoons of raw cashew butter
1/2 cup agave nectar
7 peaches
1 cup crystallized ginger, chopped
vanilla or almond extract, if desired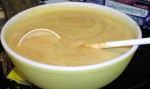 Puree all ingredients, except ginger, in batches. Stir together in a big bowl. Chill for 1 hour. Add in ginger chunks, and put in ice cream maker and follow instructions.
~from Cheryl's kitchen ©2008