Or, more accurately, 2 yummy chocolate hazelnut cakes
Each time I see the new Daring baker challenges, I think, can I REALLY make this gluten free, dairy free, egg free, soy free, corn free, sugar free and vegan AND have an amazing taste, too? *gulp*
But that's the fun of being a Daring Baker. It even went more smoothly than I anticipated. This month's Daring Baker's Challenge was hosted by Chris of Mele Cotte. The recipe is for the Filbert Gateau with Praline Buttercream from Great Cakes by Carol Walte.
This was a blast. I was pretty excited about doing this, because I haven't really piped icing in years, and the spirit of the recipe seemed very adaptable to me. I'm not a huge decorator, and I appreciate needing to do thing differently than I normally would. Although it took a long time, I really enjoyed both the process and, of course, the cake!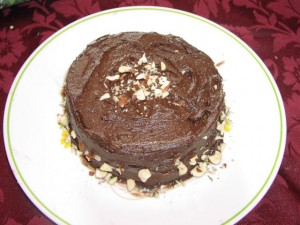 I did two versions, both gluten free, egg free, dairy free, and vegan.  However, one cake had sugar, soy and alcohol, because I don't have any burning desire to enforce my restrictions on other people. The two variations were:
Hazelnut cake, hazelnut cream with fresh apricots and a dark chocolate frosting (second picture)
and
Hazelnut cake, raspberry glaze, praline buttercream and chocolate ganache with praline buttercream on top (top picture)
I used an adapted version of my hazelnut cake from the May DB challenge. The cake had a mild flavor, which was a perfect complement to all of the other flavors in the final production. Rather than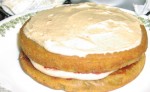 making a thicker cake and cutting them in half, I just made very short cakes.  The filling was a  variant of the PB buttercream recipe from Vegan Cupcakes take over the world for the buttercream. Per a suggestion from VeganNoodle, I used 1/2 the powdered sugar and used Darifree instead, which worked perfectly.
I brought the cakes to a dinner party, which was quite lovely, and they were promptly gobbled.  Most of the people there were glutenovores, and people used to a "normal" diet, so I was delighted to get such positive feedback! Sometimes I get a little nervous, especially when I don't know how things will turn out, but it was delightful. Not only that, but the cakes were enjoyed equally and the sugar free one disappeared the fastest. Yahoo!
I've included the recipes for the original parts of the cakes, but not the ones I used from other sources. I have not shared my recipe for the hazelnut praline, because trust me, you don't want it. It took a heck of a lot of fussing and redoing and undoing to get a workable paste, but my initial efforts bombed in a big way.   Enough said!
I did do a raspberry glaze in lieu of the apricot, as I realized that our jam was gluten contaminated. Phooey. It couldn't have been simpler, just a bit of boiling water and jam, strained.
Hazelnut cake For 4 thin layers (makes 2 6-inch cakes)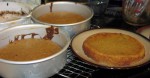 1 cup finely ground hazelnut meal (from lightly roasted and peeled nuts)
1 ¾ cup sorghum flour
1/2 teaspoon baking soda
2 teaspoons baking powder
pinch of salt
1 cup apricot nectar
1/3 cup apple sauce
1/3 cup agave nectar + 1 teaspoon honey or all agave for vegan version
1/3 cup coconut milk
1/3 oil
¼ teaspoon cardamom
½ teaspoon hazelnut (or vanilla) extract
Hazelnut filling (for two 6-inch cakes):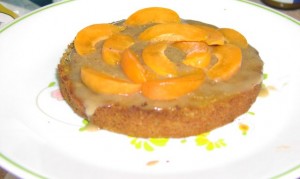 1/2 cup agave nectar
2/3 coconut milk
2 Tablespoons sweet rice
2 small apricots
3 Tablespoons hazelnut butter
Chocolate frosting (for 1 6 inch cake, you can double for both cakes):
1/2 cup cocoa powder
1/4 cup coconut oil
1/4 cup agave nectar
1 teaspoon hazelnut butter (optional)
1/2 teaspoon vanilla or other extract (optional)
or, Chocolate Ganache (for 1 6 inch cake, can double for both cakes)
4 oz chocolate, melted
1/3 cup coconut milk (may need 1-2 teaspoons more)
1 teaspoon frangelico, hazelnut extract, etc.
Preheat oven to 350.
Line the bottoms of round 6 inch cake pans with parchment or wax paper (or for a non-opera cake, use an 8X8 square pan) Grease sides of the pans.
Combine dry ingredients and wet ingredients in separate bowls. Mix until just combined and put in preheated oven for 40 minutes or until a tooth pick comes out clean. You may need to cover the cakes if they brown too much on top.
Cool on wire rack for 5-10 minutes and turn out onto a plate.
Hazelnut filling:
Blend coconut milk and apricots. Heat in a small saucepan and whisk in agave, sweet rice and nut butter. Stir over medium high heat, whisking, until thickened. Add in extract if desired. Chill before using.

Chocolate frosting:
Whip together coconut oil and agave, add in cocoa powder. Thin with coconut milk until desired consistency.
Chocolate ganache:
Melt chocolate. I tend to do it in the microwave in a glass bowl, stirring at 30 second intervals. Add in the coconut milk until the desired consistency, then pour over cake.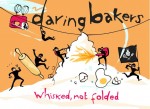 Assembly:
Bake cakes, let them cool. Glaze with raspberry glaze if desired. Use chilled hazelnut cream (with or without fresh apricots) for the next layer, or you can do the praline buttercream instead. Chill briefly in the fridge. Top with either the chocolate frosting or ganache while they are still warm. Pipe remaining praline buttercream on top. or just decorate with chopped or glazed hazelnuts.
Enjoy! I love these Daring Baker challenges.
~from Cheryl's kitchen ©2008