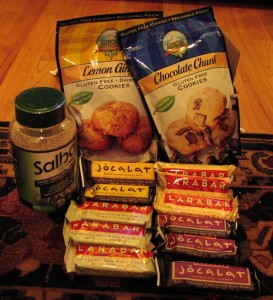 I love Larabars. They're simple, delicious, wholesome and yummy. So when a box of new flavors of Larabars showed up on my doorstep, I was delighted, then frustrated. The good news: they look luscious. The bad news: my body doesn't seem to like dates anymore. But that's actually good news for you! I'm giving away these new Larabars to a lucky reader.  There are 3 of each:
PB cookie
Chocolate cherry
Chocolate hazelnut
Coconut cream pie
They are, of course, gluten, dairy, egg, corn, soy and sugar free, and vegan to boot. Also included: a bottle of Salba (one of my favorite things to bake with!)  I recently won a recipe contest they hosted and got a case of the big bottles (at the rate I'm going, that'll keep me a good 4 or 5 years), so I'm happy to share.  I need to post the recipe soon, too.  There are also  2 bags of GF/CF cookies.
Leave me a comment, and I'll find some random way to pick a winner by Sept 15th.  Because of shipping costs, I'm limiting entrants to US and Canada.
This seemed like a good way to celebrate my new web "home"!  I've moved to www.gfgoodness.com and now have RSS or email feeds set up.  The irony of having a "GF and healthy" website where I'm posting decadent chocolate hazelnut cakes didn't escape me.  Granted, I still do my very best to use whole foods, natural sweeteners, and more wholesome versions of everything.
Yum.