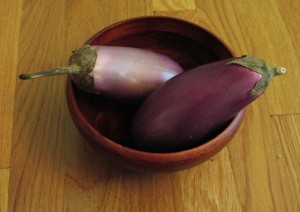 This is huge for me.  I loathed eggplant as a kid.  My family loved it, and as any of you who have kids (or have been a kid) know, the more someone pushes you to eat something, the more you detest it.   Eggplant and okra were the only veggies that I refused to eat because of taste.  However, our fine host for MPM this week, Fresh Ginger, has chosen eggplant as the ingredient of the week.  I felt like this was a good opportunity to reevaluate my (lack of) relationship with eggplant.  I'll keep you posted.
BTW, I'm also giving away some fun stuff (Larabars, Salba, cookies, etc)
Monday: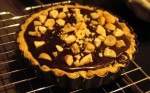 Out for a belated celebration of DH's 30th B-day.  Here's a picture of his birthday chocolate cashew mini-tart (gluten free, of course).  He's eating it as I type and hasn't paused yet.  I assume that means it's good.

Tuesday:
Millet-thyme crusted turkey cutlets (didn't get to them last week!)
roasted eggplant with thyme
Weds:
Vegan
Tomato soup with caramelized onions and cashew cream (will post later this week for this edition of GAHIGF), focusing on seasonal veggies
Thursday:
Grillin'
Salmon and roasted marinated peppers
Friday:
East indian
Beef curry, papadams and caramelized cabbage with chaat masala
Baked good of the week:
Caramel-y quinoa cookies
Rosemary cake (maybe)

From my garden: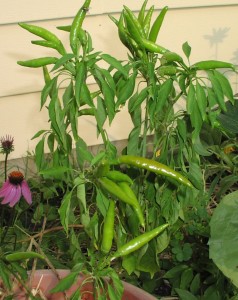 Peppers!
tomatoes
basil
ground cherries
thyme
oregano
rosemary

From the market:
cabbage
eggplant
arugula
onions
more tomatoes