I got a kick out of the "mood lighting" for the picture of my cauliflower. Of course, I meant to do that! (yeah, right.) Taking pictures is still quite new for me. I'm so in awe of many of you whose photos look like a work of art!
If you've read my blog, you know that I have a thing for cauliflower, and that I enjoy trying different things. I saw tamarind pods in the neighborhood Latino grocery store a while ago, and I've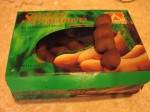 been strategizing ways to use it. Somehow I thought they were really sour. I was quite surprised that the tamarind pulp reminded me of dates, and has sweet taste! Tamarinds are actually fruit, which was news to me
This was a very experimental dish, and I didn't know quite what to expect. The taste is unique and I did enjoy it, though I was quite surprised when I looked up the Glycemic load. Oh well, turmeric root is a good anti inflammatory food, so hopefully it balances. But it is a nice change and both DH and I enjoyed the dish.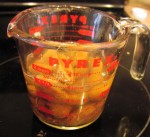 I used Thai peppers from my garden, and I was surprised at how mild they were. I don't know if I just have a mild plant this year. I would probably toss in a few more peppers next time! I didn't count the number of tamarind pods, and the sizes are so different that it's hard to give an exact amount.
1 1/2 cups boiling water, divided
enough tamarind pods to fit in 1 cup of water and still stay covered
1 teaspoon mustard seeds
1 Tablespoon oil
2-3 Thai red peppers with seeds, chopped
2 teaspoons ground tumeric root
2 teaspoons ground cumin
2 teaspoons ground coriander
1/2 teaspoon black pepper
Florets from 1 large head of cauliflower
pinch of salt
Put tamarind pods in boiling water (as many as will fit in 1 cup water). Let sit for 2-3 hours. Smoosh with a fork and press solids through a strainer (add additional 1/2 cup of hot water to help with the process).
Heat mustard seeds over medium heat for a minute and add oil and chopped Thai pepper. Add in the cauliflower florets and cook, stirring, for a few minutes. Add spices and salt, mix well to coat.
Simmer, partially covered for 15 minutes. Remove cover and continue to cook gently until cauliflower is tender. If there is too much liquid, just turn it up to a rapid boil at the end. Adjust seasonings, serve and enjoy! We had this with papadams and garam masala baked chilcken.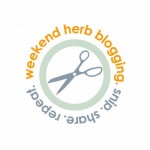 This exploration is my weekly submission to Weekend Herb Blogging. I know tamarinds are familiar territory to many, but to me, it's totally new! WHB was founded by Kalyn as a fun way to learn more about new foods and enjoy herbs. Our host this week is Srivalli from Cooking 4 all seasons.  She has a bunch of recipes listed that I plan to try soon!