Really, I'm in awe of my garden.  It starts so small and by August I have a jungle overrunning the bounds of the garden plot!  I still am learning about proper care, and much of the bounty is due to the nice rainy summer we've had.  At this point, I'm growing tomatoes, peppers, artichokes, watermelon, ground cherries, celery and a gob of herbs and a few berries. But isn't it just lovely to see something go from a seed to something luscious you can eat?
DH is heading out of town part of the week, which frees me to play a bit more. I go through periods where I need more protein, and others where it doesn't seem to matter. Lately, I've felt great when eating vegan, so I'm leaning that way when possible while balancing family harmony and time.
This week's menu swap is hosted by Mary Francis of GF Cooking School.  Thanks for hosting!
Monday:
Vegan:
My favorite arugala salad (I will probably post the recipe sooner or later!)
Oven roasted tomatoes

Tuesday:
Vegan
Kalyn's Summertime the Tomato salad (minus the tuna)

Wednesday:
Quick and easy
Millet crusted turkey cutlets with thyme, steamed artichokes in a lemony sauce
Thursday:
Freezer diving (vegan):
African Inspired Almond Collard stew

Friday:
Grillin'
Buffalo burgers with marinated peppers from my garden!

Saturday:
Vegan/batch cooking
Tomato soup with caramelized onions
Baked good: this month's Daring Baker challenge
and I also just finished making

David Lebovitz' Chocolate Idiot cake with Valrona shavings (GF, but NOT dairy or egg free…birthday cake for a friend)
I'm also working on GF, vegan, yeast free, sugar free hamburger buns/rolls. They're getting better, but are not ready for prime time yet…
Garden harvest:
From my garden: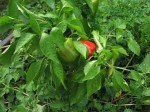 Red and green peppers
ground cherries
tomatoes
thyme
rosemary
oregano

From the market:
plums
peaches
apples
arugala
corn (for DH)