I'm officially a daring baker!
I'm extremely proud of this cake. It's more than a cake to me, it's a milestone.
I've loved to bake since I was a little kid, but only really got into it in college. Due to a variety of medical issues, I was far too exhausted to cook or bake for the last 3 or 4 years, and I had so many allergies and intolerances that it seemed impossible to bake treats worth eating.
Slowly, things have changed, and I've gotten back to baking. Even when I can't eat everything I make,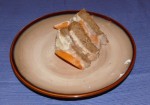 I still have the joy of creating something new, the opportunity to experiment and the delight of returning to the things I love to do. And so here's my cake, a beautiful gluten, dairy, egg, soy, corn and sugar* free creation. If you do agave instead of honey, it's vegan, too. Not only was I able to do it, but it was delicious, too. It's the start of things to come, and I'm grateful for one of many new beginnings. And we even got to have it for my birthday!
When I saw the Daring Baker Challenge, my first thought was to make a cake for other people. There were too many eggs, so much sugar, butter, cream…where to even begin to adapt it? Then I remembered Susan O' Brien's Almond torte from Sugar free, gluten free cooking (great book!!). I ended up changing most of the flavors, proportions, leaveners, shape, size, etc., but it reminded me that this mission was, indeed, possible.
My final creation was a Hazelnut Opéra cake, with layers of rosewater/honey "buttercream" and fresh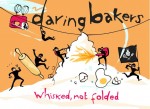 apricots topped with a hazelnut white chocolate glaze. Obviously, due to my many restrictions, I ventured quite a bit from the recipe, though I kept the spirit as well as I could. The cake itself was marvelous, though I will reduce the liquid slightly when I make it next, as I have listed in the recipe below. The buttercream worked in the end, but oh my. I had to work and rework it so many times that I don't quite know WHAT was in the final version. The base was coconut milk, with some honey, and rosewater, and it was thickened with sweet rice flour, coconut flour, chestnut flour, coconut oil and cocoa butter. Many thanks to Sheltie girl at Gluten a go go for her coaching.
The cake and buttercream were sugar free, but the glaze was not due to the fact that my hot bowl of cocoa butter took an impromptu flying leap across the kitchen. (I must say, btw, cocoa butter is surprisingly hard to clean off cabinets.) So I did use decorating chips, but I have no doubt that the cocoa butter glaze would have worked just as well.
I wanted to use blanched hazelnuts, so I roasted them. However, I discovered very quickly that hazels turn to butter very quickly…and now have a jar of super yummy hazelnut butter, so no complaints here. It's probably much easier to use raw hazel meal or you have to be extremely careful and chill the nuts before grinding.
To see more gorgeous cakes from this amazing group of bakers, check out the Daring Baker Blogroll . And, of course, thanks to this month's hosts Lis and Ivonne,for a great challenge.
Hazelnut cake
1 cup finely ground hazelnut meal (I used half roasted, half raw)
1 ¾ cup sorghum flour
1/2 teaspoon baking soda
2 teaspoons baking powder
pinch of salt
1 cup apricot nectar
1/2 cup apple sauce
1/4 cup agave nectar + 1 T honey or all agave for vegan version
1/3 cup hazel nut milk
1/4 oil
1 teaspoon rosewater
¼ teaspoon cardamom
½ teaspoon hazelnut (or vanilla) extract
Buttercream:
Coconut milk, sweet rice flour, rosewater, coconut flour, coconut oil, cocoa butter. That's about as much as I can tell ya.
Glaze:
.5 oz cocoa butter
¼ cup decorator (dairy free, but like white chocolate) chips*
A few drops of hazelnut extract
* these do have sugar, I would imagine cocoa butter with a little agave would work just as well.
Preheat oven to 350.
Line the bottoms of round 6 inch cake pans with parchment or wax paper (or for a non-opera cake, use an 8X8 square pan) Grease sides of the pans.
Combine dry ingredients and wet ingredients in separate bowls. Mix until just combined and put in preheated oven for 40 minutes or until a tooth pick comes out clean. You may need to cover the cakes if they brown too much on top.
Cool on wire rack for 5-10 minutes and turn out onto a plate. Cut the cakes in half for your layers (you will have one left over for snacking)
Make the buttercream: I can't give great advice on this one, but allow your frosting to chill completely before figuring out if it'll work for you. My original batch would have been fine if I was just patient…not one of my strengths.
Assemble the cake: first cake, then buttercream, then apricots, and repeat! I would not recommend putting the buttercream on top of the top layer, I did, and it ran a little.
Hazelnut glaze: Melt the cocoa butter and chips in the microwave for 30 second intervals, stirring each time. It should be melted in 1 minute or 1 and a half minutes. Add in extract of you choice. When slightly cooled, pour on the cake.
Enjoy!